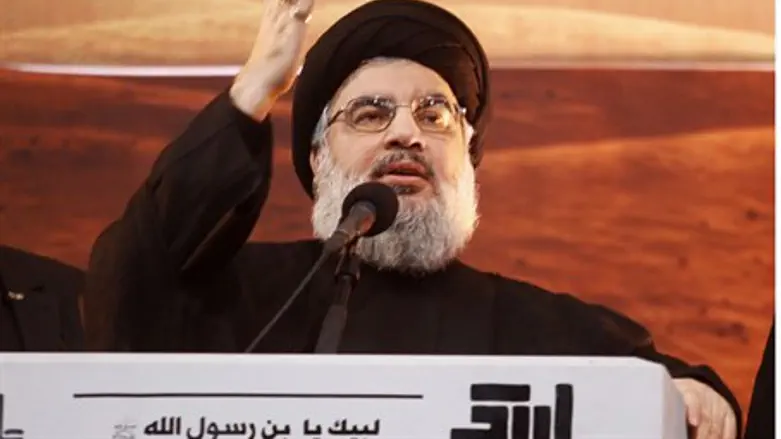 Hezbollah leader Hassan Nasrallah in rare pub
Reuters
Hezbollah top terrorist Hassan Nasrallah became even more strident in comments against Israel Wednesday, after proclaiming on Tuesday that his group had weapons that Israel "could not even imagine." On Wednesday, Nasrallah said that his group was ready to "conquer the Galilee. We are ready to intervene there and take over. We have everything we need to fight Israel in the future."
Nasrallah, who has been in hiding for years out of fear that he will be targeted and eliminated by Israeli forces, made the comments in an interview from his secret bunker, thought to be in South Lebanon. The comments come after an embarrassing incident in which the terror group arrested an alleged "Mossad agent" who had been operating in the terror group's top echelons. "Hezbollah had been working hard against spying among its leadership ranks," said top terrorist Naim Qassem. "Some cases have since been found, but these are few."
The admission has set off a new wave of denouncements by Lebanese opposed to Hezbollah's presence in South Lebanon. The terror group essentially controls the area, in a détente with the Lebanese government that allows Hezbollah to operate there unimpeded, on the pretense that it is defending the area from "Zionist aggression."
In the interview Wednesday, broadcast on a Lebanese TV station, Nasrallah said that the spying incident had not harmed Hezbollah's ability to strike Israel. "If Israel is relying on our being weakened by this incident they are making a big mistake. Israel thinks that it will have a speedy victory in the next war against us, and this is impossible" because of Hezbollah's large cache of advanced weapons, he said.
On Tuesday, Nasrallah, in a rare public appearance, said that Hezbollah has "every type of weapon" in its arsenal. "The resistance in Lebanon has everything the enemy can imagine and not imagine," he said, in a late-night interview to Lebanon's Al-Mayadeen. "We have weapons of all types; whatever [weapons] comes to mind," he added.
According to estimations, Hezbollah already has a rocket arsenal ten times as powerful as that of Hamas. The IDF has assessed that like Hamas, Hezbollah likely is digging terror tunnels into Israel so as to attack, but Defense Minister Moshe Yaalon said Tuesday there is no evidence of such tunnels at the moment.