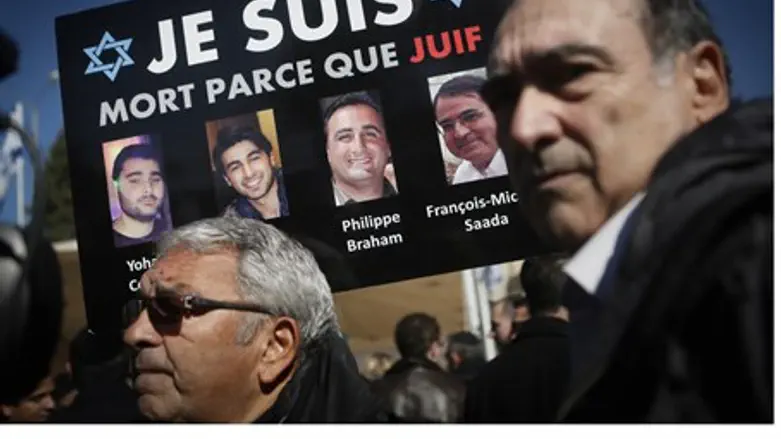 Philippe Braham (2nd picture from right) was among four murdered in Hyper Cacher attack
Miriam Alster/Flash 90
The Chairwoman of the IDF Widows and Orphans Organization, Nava Shoham Solan, sent a moving condolence letter to Valerie Barham, whose husband Philippe was murdered in the kosher supermarket attack in Paris last Friday. 
Braham, 45, was an advertising manager at a computer consultancy. He leaves behind his wife Valerie and three children. 
Solan is the widow of Major Raanan Shoham, who fell in the First Lebanon War. She raised two children alone after his death.
Solan begins the letter by expressing her empathy for Barham: "You are going through difficult days and nights, and I know exactly what you feel. I myself experienced very troubled nights in the days and weeks that haunted me, like spirits, from the time that I received the bitter news."
"And I know: the pain -  it is the sharp and stabbing pain like a knife or like an explosive that threatens to knock you over and chokes in your throat. In these moments - as I remember them, these will be the words of all the widows  who lost their beloved in wars, military operations, and hostilities - life seems only black, without shades of color, without light, and without flavor." 
Continuing, Solan tells Barham that the only way to move forward, even in the face of "strangling and gripping pain" is to "muster strength."
"Muster strength for the sake of the treasure that Philippe left you, in your hands - for the sake  of the children. And I know: at this moment it is hard to see the light, but the children are the ray of light, and they will light the way for you with a great light. They will light the memories that Philippe left you."
Despite the guilt and loneliness, Solan write, "I know, just as does every widow whose husband has been suddenly taken away from her, that even from out of the darkness of tears and the shattered memories he will send light and hope to you - and to your children." 
Toward the end of the letter, Solan promises that better days will come, albeit slowly. "From my experience...I can only say two words to you: slowly, slowly. That is the sentence that I say to every widow whose world was suddenly destroyed. You will see that other days will come, better days. Slowly, slowly gather the pieces, the pieces of your life and for their sake - glue them together, piece by piece."
"Slowly, slowly, Valerie.  We who went through what you are going through, extend a warm hand and a big hug. We are circle that united together out of loss. We are a family of which none of us asked to become a member, but we learned that only a widow understands the heart of another widow. My friends and I will accompany you." 
She concludes: "I am certain that everyone in Israel sends you, together with me, a hug of condolences and great love."