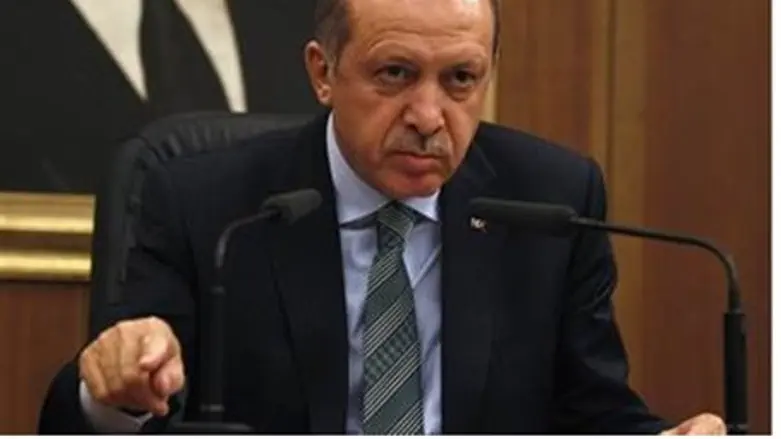 Turkish President Recep Tayyip Erdogan
Reuters
Turkish Prime Minister Recep Tayyip Erdogan accused the West of "playing games with the Islamic world," on Tuesday, according to the Daily Mail, warning fellow Muslims to be "aware."
"French citizens carry out such a massacre, and Muslims pay the price," Erdogan said. "The West's hypocrisy is obvious. As Muslims, we've never taken part in terrorist massacres. Behind these lie racism, hate speech and Islamophobia." A total of 17 people were killed in three days of violence that began when the gunmen opened fire at Charlie Hebdo in revenge for its past publication of satirical images of the prophet Mohammed. 
Erdogan also denounced Israeli Prime Minister Binyamin Netanyahu for attending the solidarity rally in Paris Sunday to condemn the Islamist attacks, claiming he was "hypocritical" for "killing" Palestinian Arab terrorists in Gaza and then condemning terror. 
"How can a man who has killed 2,500 people in Gaza with state terrorism wave his hand in Paris, like people are waiting in excitement for him to do so? How dare he go there?" he said.
The remarks are similar to comments Erdogan made Monday.
"I also hardly understand how he (Netanyahu) dared to go there. For once, you give an account for the children, women you massacred," Erdogan told a joint press conference in Ankara alongside Palestinian Authority leader Mahmoud Abbas.
Erdogan's comments are the latest in a long series of verbal attacks on Israel, dating back to the 2010 flotilla, after which Erdogan cut ties with Israel.
This past summer, Erdogan once again went into tirades against Israel, this time over Operation Protective Edge in Gaza. He threatened to end the normalization process with Israel over "state terrorism."
He has also accused Israel of "lies" because "not enough" Israeli Jews have died in the conflict and has compared Jewish Home MK Ayelet Shaked to Adolf Hitler.