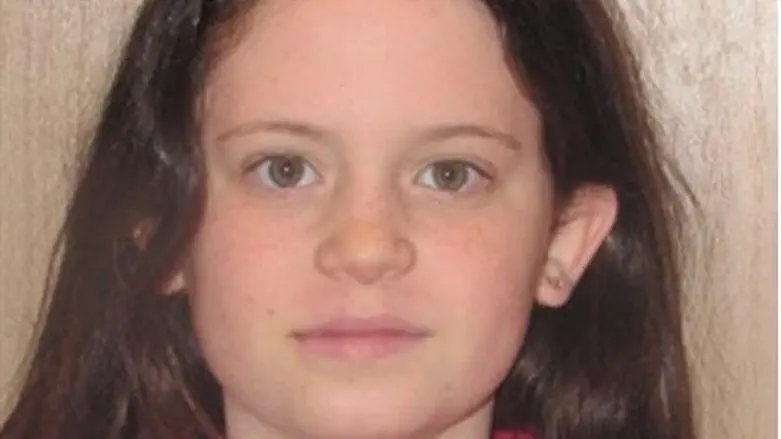 Ayala Shapira
Courtesy Shapira Family
Ayala Shapira, 11, who was badly injured by a Molotov cocktail thrown by terrorists on the family car near Ma'ale Shomron last month, asked to distribute a letter of gratitude to the public Wednesday morning.
"All the people of Israel, I thank you all for praying for me and thinking of me so much," Ayala wrote.
Since the attack, Ayala has been hospitalized at Sheba Medical Center in Tel Hashomer, suffering from burns to the face and upper body. Ayala said in her letter that the great encouragement and support the people of Israel have shown her "makes me feel special. I have no words to explain how much it moves me."
Ruth, Ayala's mother, said on Tuesday evening that "Ayala is healing slowly and in stages, she suffers pain and takes medicine to ease things for her. She speaks with lip movements and explains herself very well."
"She asks questions about the medical treatment and shows interest," Ruth said in an interview with Channel 10. "She doesn't speak about the attack and we don't bring it up either. She also smiles to people who come to visit her."
Ayala's father Avner was also wounded in the attack, albeit lightly, and remains hospitalized as well, placing Ruth in a challenging position.
"I'm 'surviving' - that's the word," she said. "I function kind of like a single-parent because I have a hospitalized daughter, a hospitalized husband and four daughters at home, so that the division of time isn't easy, and I roll with it and get by."
Speaking about her husband's condition, she said "Avner remains hospitalized, his condition is improving but until the burn on his back heals he can't leave there."
She emphasized that Ayala's recovery continues at a fast pace, meeting the doctors' highest expectations.
"She's doing everything according to the best predictions they give us, and we believe that with G-d's help it will continue like this and she'll be out of it soon," said Ruth. The public is asked to continue praying for the full recovery of Ayelet bat Rut.