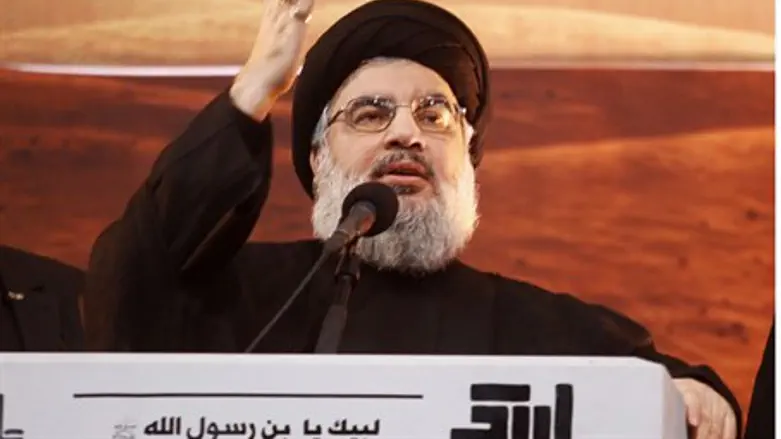 Hezbollah leader Hassan Nasrallah in rare pub
Reuters
Hezbollah has "every type of weapon" in its arsenal, the terror group's leader Hassan Nasrallah stated Tuesday. 
"The resistance in Lebanon has everything the enemy can imagine and not imagine," he said, in a late-night interview to Lebanon's Al-Mayadeen.
"We have weapons of all types; whatever [weapons] comes to mind," he added.
According to estimations, Hezbollah already has a rocket arsenal ten times as powerful as that of Hamas. The IDF has assessed that like Hamas, Hezbollah likely is digging terror tunnels into Israel so as to attack, but Defense Minister Moshe Yaalon said Tuesday there is no evidence of such tunnels at the moment.
Aside from gaining weapons from Iran, Hezbollah also is estimated to possibly benefit in a $3 billion arms deal the Lebanese army recently sealed with France. Reports have already revealed how weapons and intelligence make their way from the army to Hezbollah, which has a strong presence within the army.
Nasrallah's remarks surface amid escalating tensions between Israel and Lebanon. 
Last month, veteran military historian Aryeh Yitzhaki stated to Arutz Sheva that a future war with the group is "inevitable." 
IDF sources have reported to Arutz Sheva that the army is covertly conducting an investigation of reports that Hezbollah has been building a complex network of terror tunnels.
Security officials stated to Kol Israel Radio in October that the IDF is, indeed, losing control along Israel's northern borders - and that any attacks by Hezbollah would be disastrous. 
Alarm has also been raised after the IDF and Defense Ministry cut guard duty near northern border communities - just one year after a similar move along the Gaza Belt saw an escalation in terror and, eventually, war. 
Northern residents have responded to the apparent apathy to the situation by arming themselves, and gun ownership along the Lebanese and Syrian border communities has risen as high as 60% in recent weeks. 
Hezbollah itself declared that it was "ready to fight Israel" in October.