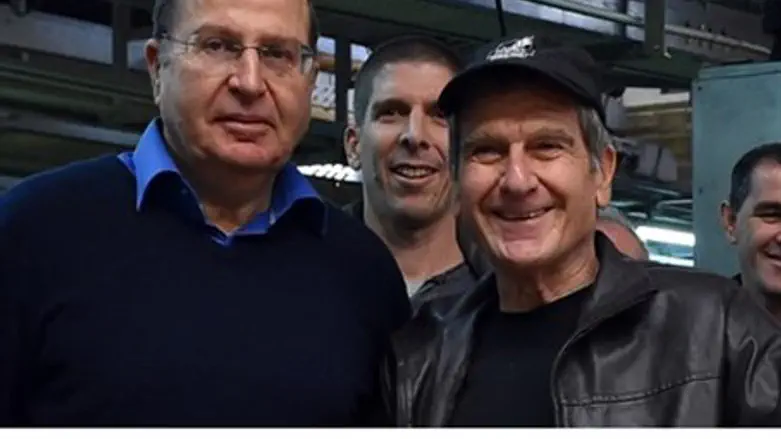 Yaalon tours north.
Ariel Hermoni, Defense Ministry
Defense Minister Moshe Yaalon toured Kiryat Shemona and northern Israel Tuesday, and addressed the claims of local residents that they have been hearing tunnels being dug underneath them for years – presumably by Hezbollah.
"No tunnels have been located on the northern border," he said in response to a question. "Noises that were heard beneath a home turned out to be a neighbor's horse stomping with his hooves."
"I am glad to see the north blooming, and most of all, quiet security-wise," Yaalon said, "and I have come to see what more can be done to help in case the quiet does not hold in the future, although at the moment there is no evidence that this is going to happen."
Asked about reports that there would be criminal investigations of the conduct of soldiers in Operation Protective Edge, Yaalon said that "when the legal system intervenes in a rough manner in operative events, it deflates the fighting spirit. On the other hand, the legal establishment should be allowed to look at the things that really are criminal."
Upper Galilee Regional Council head Giora Zaltz said in September that despite the reports of terror tunnels from Lebanon, "as of today all of the investigations that have been conducted - and many have been conducted - have not found even a single tunnel."
"I'll tell you what's more, here you don't need a tunnel to cross the border. Twenty-two communities are already on the confrontation line adjacent to the border, so that if someone wanted to do something they wouldn't need a tunnel," said Zaltz, in a statement unlikely to reassure many.
The talk of tunnels comes after IDF sources earlier in the month revealed to Arutz Sheva that the army is in fact concerned about the tunnel threat, and is quietly investigating the possibility of Hezbollah terror tunnels.
Many residents of the north have reported hearing the sounds of digging and hammers from underneath their homes, coupled with evidence of active cement mixers and construction trucks carting out earth on the Lebanese side under the cover of greenhouse structures.