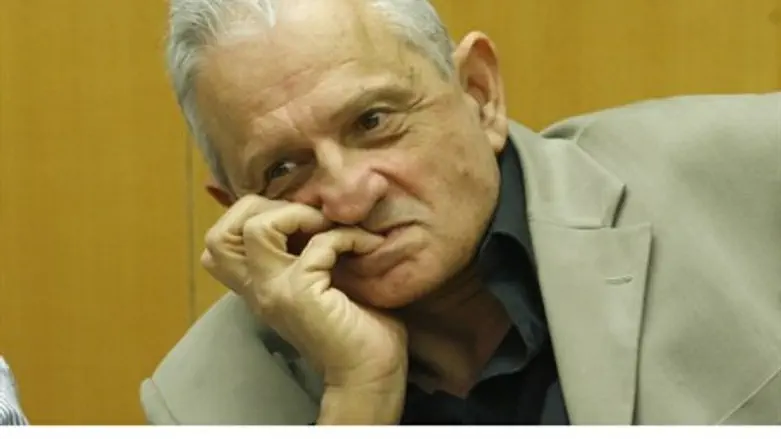 Nahum Barne'a
Micha Fattal / Flash 90
Israel's media, large parts of which are brutally hostile toward Prime Minister Binyamin Netanyahu, mocked him for allegedly pushing his way to the front row of dignitaries in the memorial march in Paris after the terror massacres there.
In Yediot Aharonot, which used to be Israel's leading-circulation newspaper until Yisrael Hayom showed up on the scene seven years ago, lead political pundit Nahum Barne'a and veteran Netanyahu basher needled the prime minister for using his "elbow" to enter the front row. The incident was called "embarrassing" in Yediot's front page, which quoted French officials as saying they had asked Netanyahu not to come, and on the Globes website as well.
In Maariv, Ben Caspit, who openly despises Netanyahu, said that it was "embarrassing, not to say shameful, to see the prime minister of Israel yesterday trying to push his way into a bus that he was not supposed to board, clearing his way with determination from the second row of marchers (in which he had been placed) to the first row (which he took control of), behaving as if a march of mourning was an election parade (he was the first to wave to the crowd) and subjecting the French to a typical Israeli routine – so vulgar and unnecessary."
In Yisrael Hayom, columnist Haim Shine slammed Yediot's coverage. Barne'a, he postulated, "did not like it at all, that the prime minister took his place in the first row of leaders. As far as he was concerned, Netanyahu should be in the last row. Barne'a ignored a solid basic fact, which was published in French press as well, that in accordance with French protocol, the heads of state were asked to march in the first row. Netanyahu's taking his place in the center expresses the fact that Israel is a global leader in the anti-terror front."
The media, he summed up, "enlisted itself for the 'anyone but Bibi' campaign, motivated by profound hatred and clear malice."
Yisrael Hayom is owned by Sheldon Adelson, who is considered to be a friend and ally of Netanyahu's.