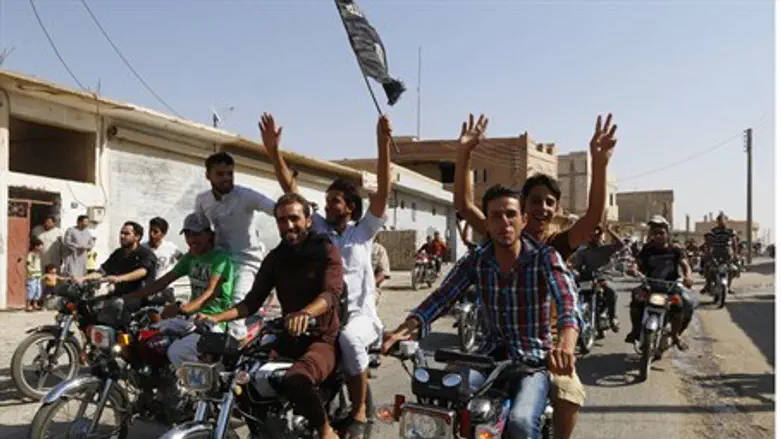 ISIS supporters (file)
Reuters
"CyberCaliphate," a hacker group that claims association with terrorist organization Islamic State, apparently gained control of the official Twitter and YouTube accounts of United States Central Command on Monday (CENTCOM). 
The US Central Command oversees the US' military effort against the terror group in Syria and Iraq. 
The hacker group immediately began posting messages showing support for ISIS and threatening the US and American soldiers. 
On Twitter, the group posted the messages "Pentagon networks hacked" and "AMERICAN SOLDIERS WE ARE COMING, WATCH YOUR BACK. ISIS. #CyberCaliphate," indicating they had broken into military "networks and personal devices." 
The messages, which clearly show the group identifying themselves as being "under the auspices of ISIS," also included links to what they claimed were leaked military files. 
The group then began posting screenshots they described as "China scenarios" and "Korean scenarios" 
In addition to the threatening messages, the hackers changed CENTCOM's account avatar to a picture of a masked jihadist together with the message "i love you isis."
Similar messages and images also appeared on CENTCOM's YouTube page. 
CyberCaliphate claimed to have taken control of US media affiliates of Fox and CBS News in Tennessee last week. Also last week, a hacker, using the name "CyberCaliphate," hacked into the Twitter page of a New Mexico newspaper, the Albuquerque Journal. 
US Central Command said it was taking "appropriate measures" against the virtual assault. The Twitter account was taken down so none of the tweets could be viewed.
President Barack Obama's spokesman Josh Earnest said the extent of the incident was being investigated, but that there is a "significant difference between a large data breach" and the hacking of a twitter account. 
A unnamed Pentagon official told Reuters the hacking was certainly an embarrassment but did not seem to present a real security threat.