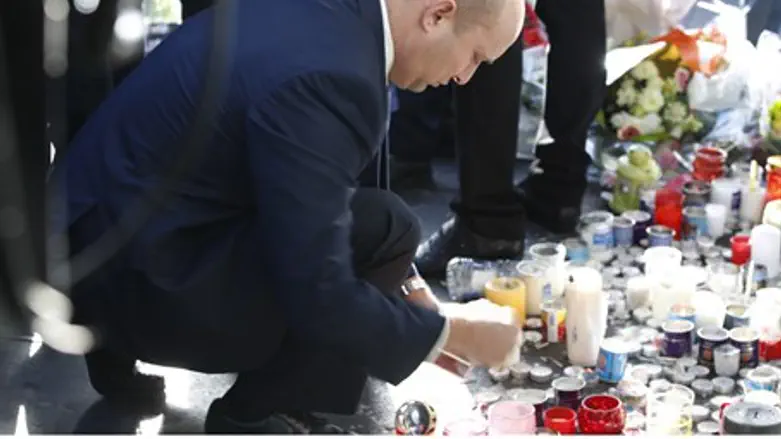 Naftali Bennett at the site of the Paris attack
Photo: PR
Economics Minister Naftali Bennett on Sunday visited the "Hyper Cacher" kosher supermarket in Paris, the scene of the massacre of four Jews by a Muslim terrorist in a hostage crisis Friday. Bennett was in Paris to take part in the mass rally and protest against last week's terror attacks, which is expected to draw over a million people.
Lighting a memorial candle at the site in honor of the murdered Jews, Bennett said that Parisian Jewry was in a panic – and was seeking any and all ways to leave the country. "We met dozens of Jews in the neighborhood where the attack took place," said Bennett. "The Jewish-owned stores are closed, the synagogues are abandoned, and Jews are packing their bags to get out of Europe.
"But the problem is not just a Jewish one -it is a European one as well," said Bennett. "The entire free world must learn from these attacks. We cannot allow the year 2015 to resemble 1938," the eve of the Nazi takeover of Europe.
"Israel sees itself as responsible for the safety and security of all the Jews in the world, and it is also the home for all Jews, who will be greatly welcomed when they come to Israel," Bennett added. "I send out my condolences to all of the Jews of France, and of Paris. The Jewish people live, Am Yisrael Chai."
The four people killed in the terrorist attack at a kosher supermarket in Paris on Friday were all Jews, the CRIF umbrella group of French Jewish communities said. CRIF identified the victims of the attack Friday as Yoav Hattab, 21, Philippe Braham, in his 40s, Yohan Cohen, 22, and Francois-Michel Saada, in his 60s.