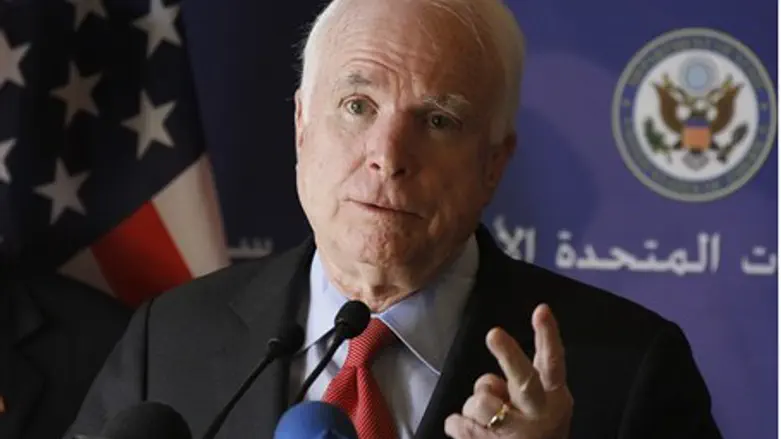 Illustrative
Abed Rahim Khatib/Flash 90
An article in the Palestinian Authority (PA) official daily this Monday praised a stabbing attack on two Border Patrol officers in Jerusalem's Old City late last month as instilling "pride," and teaching all Arab residents of Israel to "stab the Zionists."
The article, an op-ed written by Faiz Abu Shamala who is a Hamas-affiliated columnist for the official PA daily Al-Hayat Al-Jadida, appeared in a bi-weekly supplement to the daily entitled Al-Asima, and was exposed and translated by Palestinian Media Watch (PMW).
"These kinds of confrontations which frighten the enemy are excellent Palestinian examples of willpower and determination to win," wrote Shamala. "The video of the Palestinian storming and stabbing of Zionists serves as a school."
Shamala continued "the video of the assault drew the interest and approval of every youth, man and woman in Palestine. Now, every Palestinian raises his hand holding a knife together with this young Palestinian, and stabs the Zionists."
In the attack, a knife-wielding Arab terrorist who is a resident of Jerusalem snuck up on and stabbed two officers at a police security point near the Lion's Gate of the Old City early on a Friday morning following Muslim prayers on the Temple Mount.
One of the policemen, 19, was wounded in his neck. Then the second one, 35, was wounded in his hand while trying to defend himself from the attacker. The two were evacuated to the Shaare Tzedek Hospital in the city while suffering from light wounds.
The Arab terrorist fled the scene and managed to hide out for a week before being arrested last Thursday in the PA-stronghold of Ramallah. During the arrest two soldiers were lightly wounded by a mob of Arab rioters who descended on them.
Jerusalem Councilman Arieh King, who posted the video of the attack to his Facebook page, blamed Internal Security Minister Yitzhak Aharonovich (Yisrael Beytenu) for the collapse of security in the capital, and the orders on security officers to avoid fire on Arab attackers.
"Ask yourselves what stopped the Border Patrol soldiers from shooting with their personal weapons against the terrorist, and who educated them not to shoot when they try to murder them?" posed King.