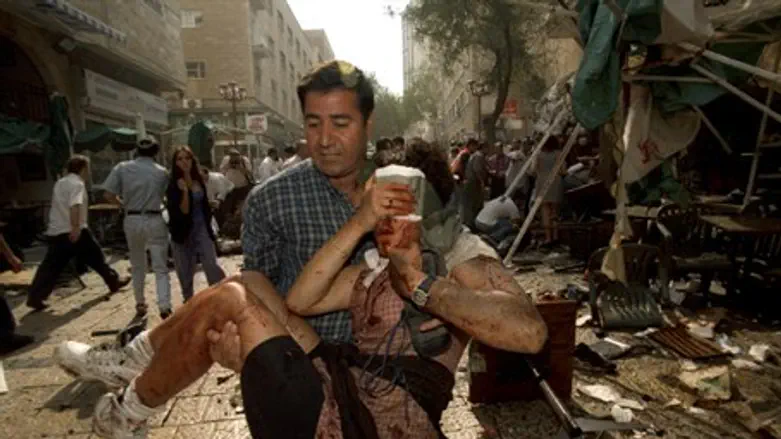 Triple suicide bombing in Jerusalem, 1997 (file)
Flash90
Muslim slaughter of fellow-Muslims and "infidels" reached new modern heights in 2014. Though car bombings still likely have the lead in worldwide attacks, the number of suicide murderers – virtually all them Muslims, and mostly from Sunni Salafist jihadi organizations affiliated with global jihad – appears to be the next-most lethal weapon.
The Tel Aviv-based Institute for National Security Studies (INSS) has found that there were 592 attacks in 2014, causing some 4,400 deaths. During 2013, there were just over 300 attacks, with 3,200 casualties.
INSS research finds that the skyrocketing trend in Muslim suicide murders is due largely to three factors: Middle East turmoil and governmental instability; the meteoric rise of the Islamic State (ISIS) and its influence in the region and the world; and the US withdrawal from Afghanistan.
Most of the attacks, of course, took place in the Middle East. Some 370 suicide attacks there killed about 2,750 people, compared to 163 attacks and 1,950 victims in 2013.
There were 271 attacks in Iraq (most of which are assumed to have been perpetrated by ISIS), compared to fewer than 100 the year before, 41 in Syria, 29 in Yemen, and 13 in Lebanon. Libya suffered 11 such attacks, compared with only one the year before, and there were four in Egypt. 
In the non-Arab Muslim world and Africa, suicide bombings were also up. Most notably, there were 124 suicide attacks in Afghanistan, practically double the number in 2013, 36 in Pakistan (only one more than the year before), and 32 in Nigeria, over ten times more than the previous year. 
Only one suicide terrorist attempted an attack against Israel in 2014, INSS found: During the recent Hamas war with Israel in Gaza, the Egyptians thwarted an attempt by Ansar Bayt al-Maqdis – a Sunni jihadist group - to send a suicide bomber from Sinai to the Kerem Shalom border crossing with Israel.
The Israeli media reported that Hamas used several suicide bombers during the fighting; Israeli military sources did not confirm these reports.
INSS concludes that terrorist organizations affiliated with global jihad now have a stronger presence in the countries bordering Israel, and Israel must prepare for the possibility that some of their attacks will be directed against it. 
Such a development could spur Israel's traditional enemies, Hamas, Islamic Jihad, and other local groups inspired by global jihad and Islamic State, to join in the growing suicide attack phenomenon.