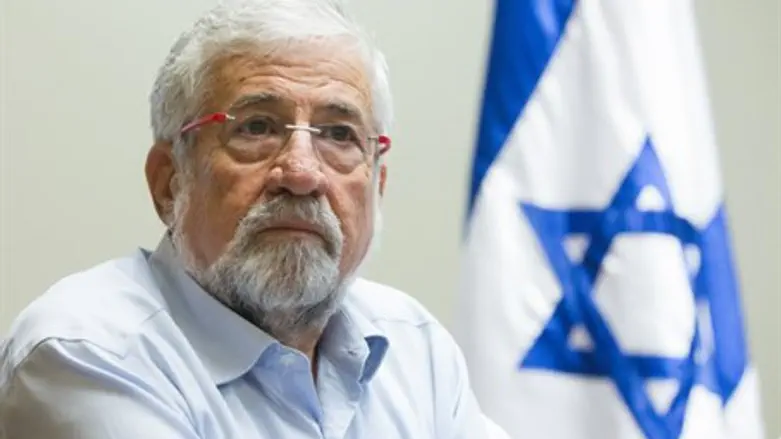 Amram Mitzna
Miriam Alster/Flash 90
MK Amram Mitzna (Hatnua), who recently announced he would leave politics and not run in the upcoming elections, on Tuesday had criticism for the head of his party, MK Tzipi Livni, over the unity agreement she reached with the Labor party.
Under the agreement, Livni and Hatnua MK Amir Peretz will be guaranteed realistic spots on Labor's Knesset list, but Mitzna and the other three remaining Hatnua MKs were left out of the list altogether.
Hatnua MKs Elazar Stern, David Tzur and Meir Sheetrit have all announced their resignations from the party after realizing they have been left without a political home.
In an interview Tuesday with the Knesset Channel, Mitzna said that Livni made the decision to unite with Labor on her own without consulting the rest of the party, and also hinted that she behaved in a "dictatorial" manner.
"Today, more than ever, there are parties in which the chairperson determines the list and kicks out those who he does not want on it, for different reasons," he said, adding, "Livni brought about the dismantling of Hatnua when she decided that four of the six MKs from the party will not be included in the joint list with Labor."
"It was not my decision to leave," stressed Mitzna. "Two months ago we were presented with the Hatnua constitution, that did not exist before. We never authorized Livni to negotiate with other parties."
When asked by the interviewer whether Livni was behaving like a dictator, he replied, "In principle, yes."
Before running with Hatnua, Mitzna was a long-time Labor party member, and was mayor of Haifa for a decade. He chaired the Labor party during the 2003 elections, when the party won only 19 seats.
He later resigned as party leader (to be replaced by Shimon Peres), and from the Knesset, and after a stint as the appointed mayor of Yerucham he joined Hatnua in 2012 when Livni broke away from Kadima.
His comments on Tuesday's interview stand in contrast to a post he made on his Facebook page after the integration of Hatnua with Labor, when he welcomed the union.
"This is a step that can truly change Israel," he said. "The Labor party was and remains my political home. Led today by Yitzhak Herzog, with the participation of Tzipi Livni and a young and dynamic group, it can bring about regime change. I will be happy to assist in that effort."