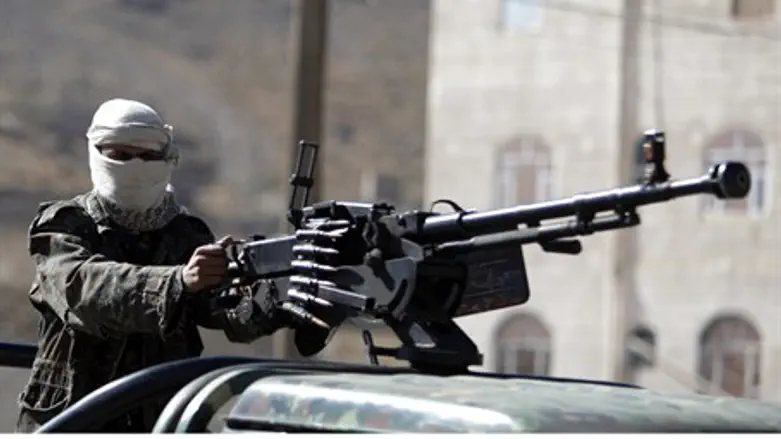 Yemeni paramilitary police trooper in Sanaa
Reuters
Pro-Iranian militias have become a real threat to the Yemenite government, Sultan Al-Arada, governor of the Maerev district in central Yemen, stated Monday, 
Al-Arada warned of threats to the vital interests of the state in the province, including oil and gas fields and electrical transport system, in an interview withAl-Sharq Al-Awsat.
According to Arada, the militias of the Shiite Houthi minority, supported by Iran, seek to take over the district ambush that provides the bulk of the energy consumption of Yemen after they occupied Sanaa, its capital, a few months ago, as well as a few other districts in northern Yemen.
Arada accused the members of the old regime, loyal to former President Ali Abdullah Saleh, of being involved in terrorist attacks carried out on oil pipelines and electrical systems, to cause chaos to Yemen's state of security and enable the Houthi rebels to take control. 
Saleh was ousted from power during the 2011 Arab Spring and directs a private militia with his own, and has been accused of collaborating with the Houthis against the current regime, which is dominated by the Muslim Brotherhood. 
Last year Houthi militias were able to take control of several military bases and military equipment - including 120 tanks, 70 armored personnel carriers and 100 anti-aircraft missiles.
In addition, the Houthis received weapons from Iran in late December and conducted an extensive military training session, which included sending naval ships to the Gulf of Aden, a message is visible on its strategic interests in the region.
7,000 people were killed in Yemen in 2014, most of them in battles between Houthi militias into the army, internal power struggles and terrorist attacks of extremist Islamist organizations, which have a significant presence in the south of the country.
The US has carried out during this period 26 drone aircraft attacks against terrorist targets in Yemen.