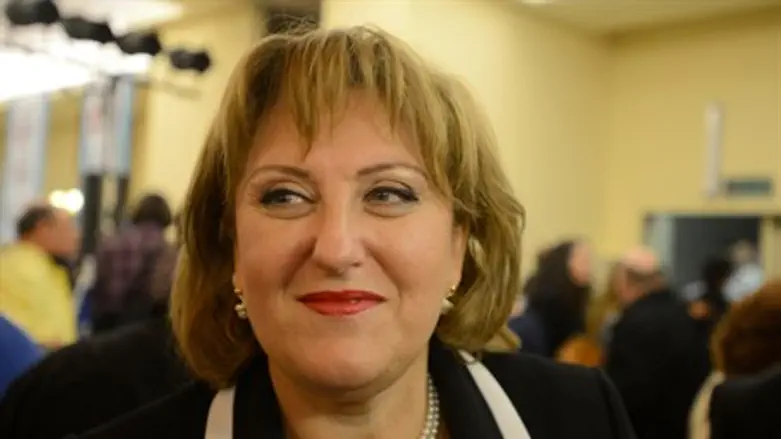 Faina Kirschenbaum
Gili Yaari/Flash 90
Deputy Interior Minister Faina Kirschenbaum (Yisrael Beytenu) decided not to run in the upcoming elections due to suspicions of corruption against her, but changed her mind upon request from the chairman of her party, Avigdor Liberman, Channel 2 News reported on Friday.
According to the report, Kirschenbaum informed Liberman of her intention to quit politics following a meeting of members of the Yisrael Beytenu party, citing pressure from family and friends to do so.
Liberman rejected her request to quit and asked Kirschenbaum to reconsider, which she did, according to Channel 2 News.
Kirschenbaum is one of 30 senior figures suspected of involvement in corruption. The suspects apparently illegally allocated budgets to NPOs and different sources, transferred funds to regional council organizations, and laundered money through "straw company" fronts.
Likewise the suspects are thought to have given bribes and benefits, as well as having appointed and advanced the interests of their associates. Searches were conducted on their homes and offices, and computers and documents were also seized as part of the investigation.
Liberman has claimed the corruption case was purposely made public during the election campaign in order to hurt his party, a claim which Speaking of the corruption case that has erupted against Yisrael Beytenu's top brass Attorney General Yehuda Weinstein on Thursday dismissed as "nonsense".
"I approved this investigation, and have been following it closely, and I have recently heard accusations against the prosecution and the police that the investigation was mounted in order to influence and interfere in the upcoming elections," Weinstein said.
"Nothing could be further from the truth. It would have been better had he not said it," he added.
(Arutz Sheva's North American desk is keeping you updated until the start of Shabbat in New York. The time posted automatically on all Arutz Sheva articles, however, is Israeli time.)