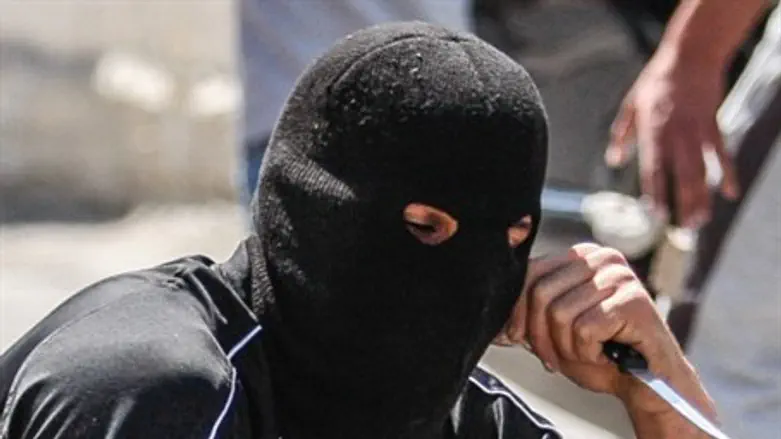 Arab with knife (illustration)
Flash 90
Border Police officers on Wednesday evening arrested a suspected terrorist who came to the Cave of the Patriarchs, near Hevron, carrying a large knife.
The suspect, a 40-year-old Arab resident of Hevron, arrived at a checkpoint and aroused the suspicions of the officers, who searched his body and found inside the pocket of his coat a large knife with a blade more than 15 centimeters long.
The suspect was arrested and taken in for questioning. Police did not rule out terrorism as motive, but said all possible motives are being investigated and that the suspect was believed to be under the influence of drugs.
Police pointed out that Wednesday evening's incident is not the first time that a knife-wielding Arab was caught by Border Guard officers at the same spot.
"This past year alone a significant number of stabbings were thwarted, and a number of Palestinians carrying knives and trying to enter the Cave of the Patriarchs were arrested," the police stated.
The knife that was captured.
Photo: Israel Police
A week ago, an Arab terrorist from Tulkarm arrived at the Nitzanei Oz crossing, armed with a knife, and tried to stab one of the IDF soldiers who was stationed at the site.
Soldiers at the post from the Kfir Brigade's Netzah Yehuda Battalion, also known as Nahal Hareidi or Hareidi Brigade, neutralized the terrorist. He was brought in for questioning by security forces.
Earlier in December, a female Arab terrorist arrived at the Gush Etzion Junction in Judea and attacked IDF soldiers with a knife, wounding one person.
The terrorist tried to flee the scene, but IDF soldiers on patrol shot her and wounded her critically.