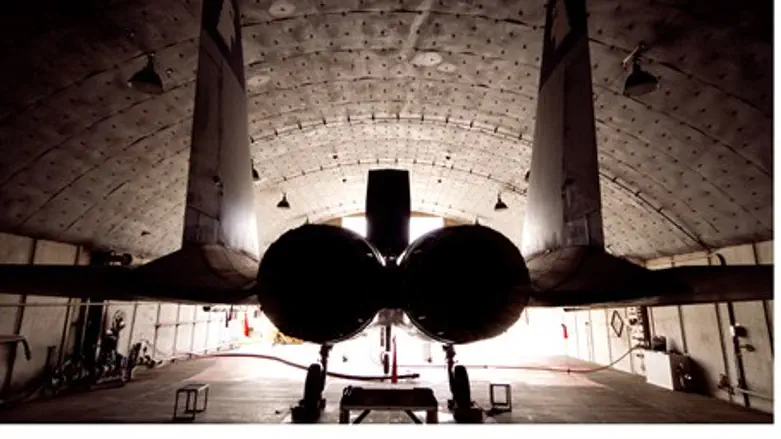 IAF F-15 at Ovda Military Airport
Ofer Zidon/Flash 90
In response to the incessant Hamas rocket barrage during Operation Protective Edge that led international airlines to impose a temporary flight ban on Ben-Gurion International Airport in mid-July, Israel concluded a drill on Tuesday to have an alternate airport in the southern Negev for just such instances.
Ben-Gurion decided to hold a drill of closing the airport and operating instead the IAF's Ovda Military Airport located 35 miles (60 kilometers) north of Israel's Red Sea resort of Eilat in the Negev, which indeed was used during the flight ban.
In the drill which began earlier in the week and concluded on Tuesday, various airlines, the police, the Interior Ministry, ground services companies and all units of the Airports Authority took part, reports Walla!.
The drill tested the activities required by the various companies, including those providing fuel for the planes, as well as governmental offices in facilitating an easy transfer to Ovda Airport.
An emphasis in the drill was placed on refreshing workers and testing the procedures for emergency programs while materializing the operational switch over to Ovda.
During the summer operation, the flight ban came after after a rocket fired from Gaza struck a home in the central Israeli city of Yehud, which is near the Lod-based airport.
Israeli Transportation Minister Yisrael Katz (Likud) condemned the decisions to cancel flights as "surrendering to terrorism," and said that the threat to Ben-Gurion was being exaggerated.
Indeed, Hamas lost no time in applauding the airport closure, with Hamas spokesman Sami Abu Zuhri saying "the success of Hamas in closing Israeli airspace is a great victory for the resistance, and is the crown of Israel's failure."
In a gesture intended to pressure the Federal Aviation Administration (FAA) to lift its flight ban, former New York mayor Mike Bloomberg flew to Tel Aviv to "show solidarity with the Israeli people and to demonstrate that it is safe to fly in and out of Israel."
Bloomberg called Ben-Gurion the "best protected airport in the world," noting El Al flights had continued functioning safely despite the European and North American hiatus.
"The flight restrictions are a mistake that hands Hamas an undeserved victory and should be lifted immediately," Bloomberg said. "I strongly urge the FAA to reverse course and permit US airlines to fly to Israel."