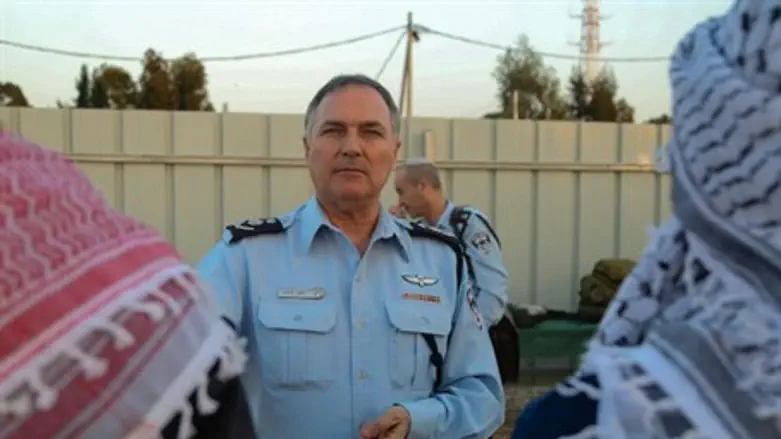 Yohanan Danino with the mista'aravim
Police Spokesperson Unit
Police Commissioner Yohanan Danino on Tuesday visited a base in the Judea and Samaria region of the Border Patrol's special mista'aravim unit, an elite squad of undercover forces disguising themselves as Arabs to covertly stop terror.
In the course of his visit, Danino presented commanders of the unit with the Police Commissioner's Shield of Excellence award for the unit's impressive accomplishments over the years.
This is the second recognition Danino has given the unit recently; during Hanukkah in a visit with President Reuven Rivlin to a base in Judea, he awarded two mista'aravim soldiers a decoration for outstanding performance in a recent arrest of a terrorist while showing bravery despite the high risk to their lives.
While at the base on Tuesday, Danino was given an overview of the secretive unit's activities and met with the combat soldiers.
"In a period in which terror raises its head in the world and in Israel, the people of Israel have someone to rely on," said Danino. "Anonymous and daring warriors who act without fear, far from the limelight to defend every resident of the state."
"I came to express my appreciation and thanks to you, the mista'aravim unit of Judea and Samaria, whose actions are not exposed to the public eye, whose deeds in their overwhelming majority are not published and cannot be published, but whose contribution to the security of civilians of the state cannot be measured in gold," continued the police chief. 
Danino stated "in my name and in the name of the Israeli police, I came to thank you. I am proud of you, the entire police is proud of you and also the entire public."
The unit's missions have led to the complicated and classified arrests of hundreds of terrorists, many of them coming just a step before the terrorists conducted lethal attacks on innocent civilians.
Counter-terrorism is the specialty of the mista'aravim with their unique abilities to infiltrate the Arab street and go unnoticed while assuming numerous identities. For many years the unit has tipped the scales in Israel's favor during the unrelenting fight against Arab terrorism.
Rare video footage (in Hebrew) showing the unit's activities arresting terrorists in Gaza, as well as their training methods to ensure Arab civilians and human shields are not wounded in the course of their missions, can be seen below.