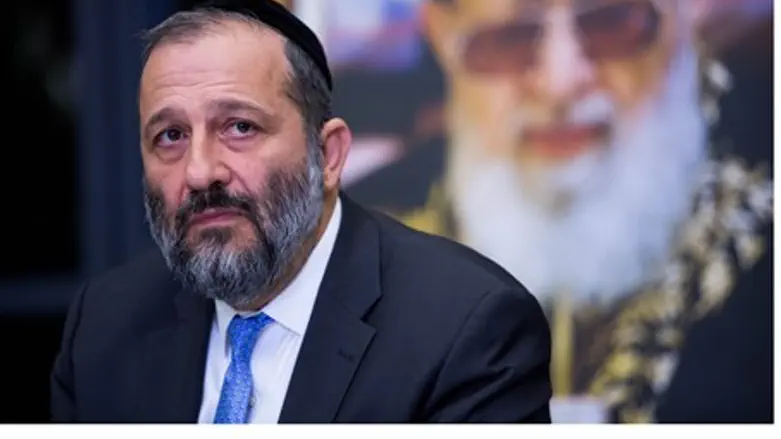 Aryeh Deri
Yonatan Sindel/Flash 90
Shas leader Aryeh Deri has called for an emergency meeting of the party's Council of Torah Sages Monday night, in order to submit his resignation letter for approval after a recording leaked of the party's spiritual leader, Rav Ovadiah Yosef tz"l, making a number of severe remarks against Deri. 
Political analysts claim this is a mere tactic, however, for Deri to rouse the support of the Council, which will likely demand that he remain in office regardless, according to Arutz Sheva's Knesset correspondent. 
In the recordings, which were leaked Sunday night, Rabbi Yosef is seen in private meetings condemning Deri for his corruption that had him jailed in 1999 and explaining he didn't want to reappoint him as head of Shas - and even going as far as to refer to him as "evil."
But on Monday, Yosef's children went to the spiritual leader's grave to request forgiveness for "disgracing his honor," in an apparent show of support for Deri despite the condemnation R' Yosef expressed in the footage. 
The footage leaked after Shas breakway party Ha'am Itanu leader Eli Yishai had threatened to leak never-before-seen footage of R' Yosef of the leader's "true opinions" over Deri. 
Yishai's rabbinical counsel, Rabbi Meir Mazuz, lost no time Sunday night denying that the publication of Rabbi Yosef's recordings was done according to his or Yishai's opinion, and stating that the person responsible for the publication remains unknown.
Both Yishai and Deri were appointed as co-chairs of the Shas party, along with MK Ariel Atias, before the last elections, but the Council of Torah Sages, then headed by the late Rabbi Ovadiah Yosef, later ruled that Deri will be Shas chairman, further fueling the conflict between the two.
The long-standing rivalry between them resurfaced after Rabbi Yosef's death, when Yishai was reportedly advised against attending the rabbi's memorial service, due to political pressures from Deri.
Yishai eventually left Shas several weeks ago to form Ha'am Itanu, and polls suggest that the party's formation may have single-handedly cut Shas's electorate power in half for the 20th Knesset.