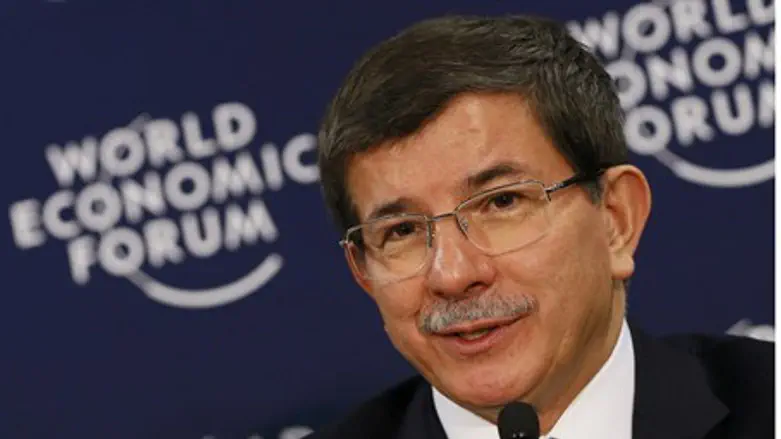 Turkish Prime Minister Ahmet Davutoglu
Reuters
Turkish Prime Minister Ahmet Davutoglu on Sunday said that Turkey stands behind the Palestinian Arabs in their efforts to oppose Israeli attempts to "reduce the Islamic character" of Jerusalem, reports The Associated Press (AP).
Davutoglu was speaking to reporters in the central Turkish city of Konya, a day after meeting with Hamas chief Khaled Mashaal, who is visiting Turkey and on Saturday praised Turkey as a "source of power" for all Muslims in gratitude to Turkey's leaders for supporting the "Palestinian cause".
Davutoglu said on Sunday, "Turkey won't accept any impositions concerning Al-Aqsa."
Islamists have been regularly clashing with Israeli police on the Temple Mount and escalated a campaign of harassment against Jewish visitors, who are already under severe restrictions due to Muslim pressure. The violence reached a peak with the recent attempted murder of prominent Jewish Temple Mount activist Yehuda Glick.
The violent Arab rioting on the Temple Mount recently forced police to enter the mosque as rioters barricaded themselves inside. Israel was later forced to temporarily close the Temple Mount to Muslim visitors, which raised the ire of Arab leaders.
One of those who condemned Israel was Turkish President Recep Tayyip Erdogan, who vowed to take the issue to the UN Security Council.
Erdogan called Israel's actions barbaric and said Turkey will not remain silent.
"I hope the Israeli government deals with this issue immediately and the Al-Aqsa mosque is opened to all Muslims soon, or Israel will be left alone in the world like it is now in the [Middle East]," Erdogan threatened.
Davutoglu, who served as Foreign Minister when Erdogan was Prime Minister, has been just as vocal a critic of Israel as Erdogan has been.
In September, he said he saw no hope of "normalizing" ties with the Jewish state, which have been tense since the 2010 Mavi Marmara incident, when the Marmara ship, which claimed to be providing "humanitarian aid for the people of Gaza," defied orders to turn around and dock at the Ashdod port.
After it ignored repeated warnings to change course, the IDF boarded the vessel - only to be attacked by Islamist extremists on board..