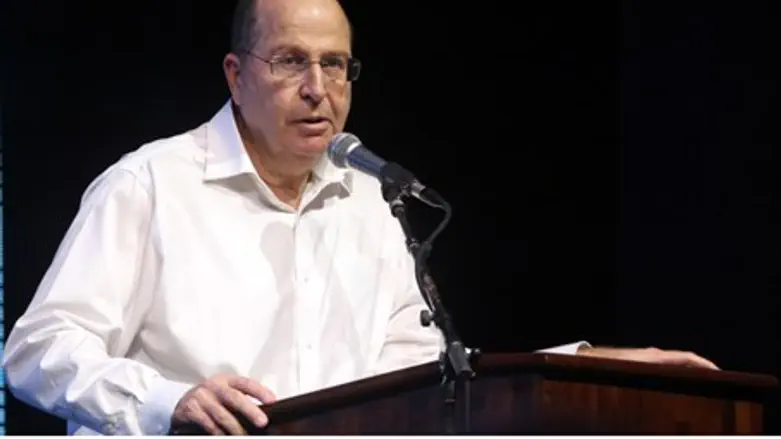 Defense Minister Moshe Ya'alon
Flash 90
Defense Minister Moshe Ya'alon (Likud) visited the scene of the firebombing attack in Ma'ale Shomron in Samaria on Friday morning, where he met with top-ranking IDF commanders to review the security situation in the sector. 
Ya'alon praised the "rapid" deployment of "military operations and security forces on the ground following the attack."
"We will put our hands on the attackers and if they have backers - we will even reach them," Ya'alon said. "The IDF and Shin Bet will know to address the situation where there is mass terror, which includes throwing Molotov cocktails and rocks." 
Ya'alon then visited critically wounded 11-year-old Ayala Shapira at Tel HaShomer's Sheba Medical Center and spoke with her parents. 
"Be strong," Ya'alon told the parents. "Ayala is in the good hands of excellent doctors. I wish her a speedy recovery."
"Looking ahead, this is a very complex and trying time, and you should stock up mental strength for it," he continued. "This terror aims to intimidate the residents of Judea and Samaria, but from my knowledge of the people of the region, and from talking you, I can tell that they will not deter us."
Ya'alon's statements surface hours after Ayala's father Avner told IDF Radio that the IDF and the security establishment have taken the wrong approach to terror. 
"All of this treating the incident as if it were a criminal event - the idea of treating some young criminals who throw bombs at cars as criminals is a fundamentally flawed concept," Shapira stated Friday. 
According to him, they are trying to solve military problems by legal means, clerical and administrative procedures - not through military operations, as they should.
"There is a clear war [here] and we must send the army to chase wanted men instead of just military operations," he added.