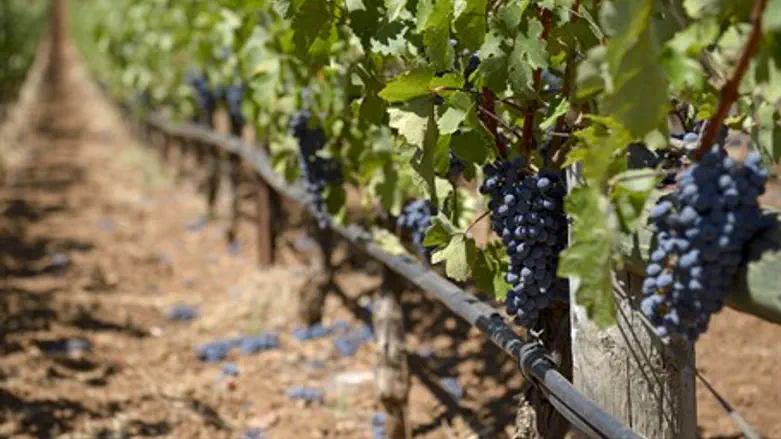 Wine vineyard (illustration)
Gili Yaari/Flash 90
It was a visit to Jerusalem that inspired French Jew Alexandre Sartene to start the world's third kosher vineyard outside Israel which, despite a rocky start, now exports as far as Brazil.
"I find the idea of kosher wine divine," says a proud Sartene, with a touch of the same humor that has seen him nickname his domain in southern France as his "kibbutz."
And his vineyard, Parnassah, which means prosperity in Hebrew, is living up to its name, with all wine made strictly in line with the ancient Jewish tradition dating back more than 3,000 years.
However, Parnassah vineyard - located north of the city of Nimes, an area whose rich history goes back to the Roman Empire - is still facing hurdles, though Sartene is unfazed.
"Wine and olives are the oldest kosher products," said the 49-year-old, sporting a blue kippah. He is part of France's Jewish community, which has 500,000-600,000 members - the largest Jewish population after Israel and the United States.
Speaking about the gourmet delicacies that follow Jewish law, he called them "the most mythical of all gifts. It's in the Torah."
Apart from Parnassah, there are only two 100% kosher vineyards worldwide outside Israel. Both are in the United States - one in Oregon and the other in California.
The wine produced by Sartene is completely organic with no additives or preservatives. Its production is carefully supervised by a rabbi who flies in from Jerusalem with two assistants, and only they can touch the grapes after the harvest.
When they are not in France, access to the vats is blocked. Even visiting journalists are asked to keep a respectful distance.
To be considered kosher, Shabbat-observant Jews must supervise the entire winemaking process and any ingredients used must be kosher. When kosher wine is produced, marketed and sold commercially, it must have a seal of kashrut ensuring its kosher status by a rabbinic authority.
Spread over seven hectares (17 acres) and with another two hectares which are currently being revitalized, the vineyard produces between 50,000 and 60,000 bottles annually.
The offerings include reds, roses and whites which are sold in Paris, Berlin, Brussels, Panama City and Rio de Janeiro.
Not all smooth sailing
Though he never anticipated a career in winemaking, it was not totally off Sartene's radar. His postmaster grandfather dabbled in making his own tipple and had a small vineyard where Sartene helped out as a boy.
The erstwhile Parisian and marketing consultant got the idea of setting up a kosher vineyard after a 1993 visit to a wine domain called the Jerusalem Hills, located around the ancient Israeli capital.
It took several more years and a budget of one million euros for the dream to fructify. Sartene finally chose the Nimes area because "I love bullfights."
In early 2007, the project was ready to go with the backing of one of the deputies of the mayor of Arpaillargues, a village of some 800 residents.
However, the mayor has refused to provide either water or electricity connections for the domain - which includes a showroom, a home that doubles as office and 2,000 meters (more than a mile) of walkways covered in Gaudi-like tiles. Sartene, consequently, sources water from a well and uses a generator for power.
A legal battle is on and there have been 27 complaints from both sides filed so far, including one concerning the alleged theft of stones from the property.
Sartene's lawyer Arnaud Lemoine dismisses any link between his client's troubles and resurgent anti-Semitic attacks in France that this month prompted Interior Minister Bernard Cazeneuve to vow to make the fight against anti-Semitism a "national cause."
"This is not the case of an anti-Semitic mayor who is trying to throw a spanner in the works," said Sartene's lawyer Arnaud Lemoine. He added the mayor "was initially favorable to this project but the higher ups vetoed it."
"The question really is why did the prefect change his mind?" he said, referring to the top local government authority of the region.
But Sartene ploughs on, his operation grows and he is convinced that the courts will ultimately rule in his favor. "My business plan is one million bottles," he said.
AFP contributed to this report.