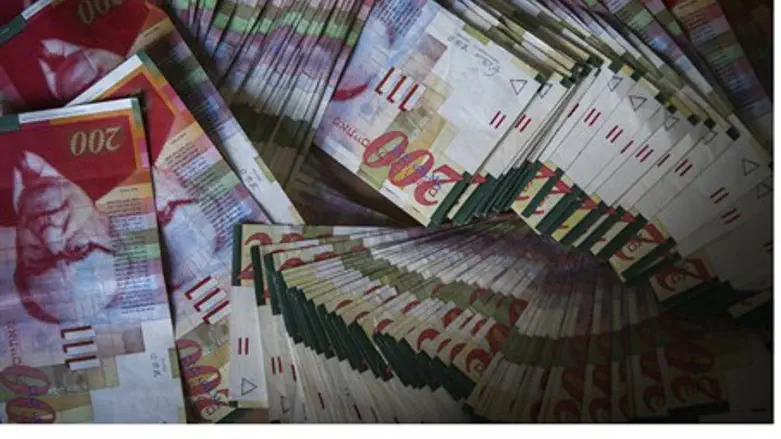 (Illustration)
Nati Shohat/Flash 90
Prime Minister Binyamin Netanyahu stated Sunday that the minimum wage will be raised to NIS 5,000 ($1,250) a month. 
At the Cabinet meeting, Netanyahu said, "This morning I met with Histadrut labor union chair Avi Nissenkorn and Israel Manufacturers' Association President Tzvika Oren. I informed them that I have instructed the Finance Ministry to enable the Cabinet to raise the minimum wage to NIS 5,000."
On December 3, Nissenkorn and Oren decided to raise the minimum wage by 700 shekels up to the monthly figure of NIS 5,000. 
The two agreed that starting on January 1, the minimum wage will be raised from 4,300 shekels to 5,000 shekels in gradual steps implemented over three stages ending in January 2017.
Continuing his address, Netanyahu said, "We have raised [the minimum wage] in the past, and now we raise it again." 
"This is great news for 700,000 people. It is a step that will reduce the gaps in Israeli and provide motivation." 
Nissenkorn, the Histadrut chairman, welcomed Netanyahu's statement, saying, "by April hundreds of thousands of families will start to feel the change in their pay slips." 
"We must worry now about implementing this agreement without delay. It will help 700,000 men and women in Israel, who are fighting daily for their ability to make ends meet."
"Raising the minimum wage to NIS 5,000 is important news for Israeli society. The Histadrut labor union is committed to continuing to fight for and implement measures to reduce the [economic] gaps in Israeli society," Nissenkorn stressed. 
Last week, Nissenkorn sent a letter to the Prime Minister, on the subject of the application of the minimum wage agreement between Histadrut and the Israel Manufacturer's Association. 
The Histadrut chairman called on Netanyahu, who has served as Minister of Finance since sacking Yesh Atid Chairman Yair Lapid several weeks ago, to exercise his power, stop the procrastination, and sign into law the agreement made two weeks prior. 
Attached to the letter was a note of opinion from retired Supreme Court judge Dr. Eliyahu Winograd. In the note, Winograd wrote that there is no reason not to act immediately for full implementation of the agreement. 
Netanyahu was recently criticized by Labor MK Shelly Yechimovich, who blamed his economic policies for the high rate of poverty in Israel. 
Regarding the minimum wage raise possibility, Yechimovich argued "it is the first and most urgent thing that needs to be done here, but they [the government] still don't want to do it." 
The minimum wage rise will be implemented with the beginning of the coming year.