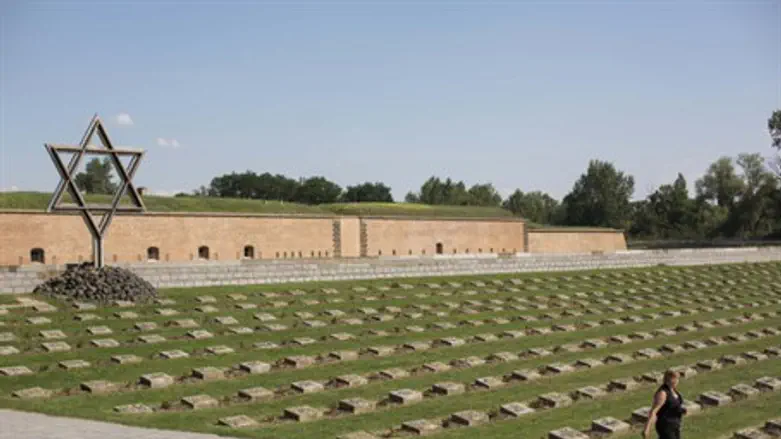 Jewish cemetery (file)
Flash 90
In a surprising move given the country's fiercely antagonistic stance towards the Jewish state, Iran unveiled a memorial monument dedicated to Jewish soldiers slain in the bitter 1980-1988 Iran-Iraq War. 
Iran's official news agency, IRNA, posted photos of last Monday's public ceremony with the headline, "Monument to Jewish Martyrs Unveiled in Tehran." The page was captioned, "Iran on Monday unveiled a monument to the Jewish citizens who lost their lives in the 8-year Iraqi imposed war on Iran."
The monument, a large gold slab, contains inscriptions in Farsi as well as a plaque featuring an artistic representation of the Hebrew phrase, "Peace Forever." It was placed in a Jewish cemetery in Tehran. 
Another slab bears a tiled depiction of a gold Menorah set against a royal blue background. 
Officials spoke at a dais flanked by the Iranian flag and a large seven-stemmed menorah. Banners show images of fallen Jewish soldiers, who were hailed as "martyrs" in both Farsi and Hebrew. Photos of the event also depict a large group of Jews praying and visiting tombstones in the ceremony.
For those unable to see the Twitter post embedded below showing images of the monument, click here.
Mohammad Hassan Aboutorabi-Fard, the Iranian parliament's vice-speaker, addressed the ceremony and hailed local Jewish "obedience" to Iran, which many have noted is a result of the great threat Iranian Jews live under.
"The explicit stances of the Jewish community in supporting the Islamic Republic's establishment and their obedience to the Supreme Leader of the Revolution demonstrate the bonds originating from the teachings of the divine religions."
He also praised the Jewish community for its condemnation of the United States against Iran as well Israeli actions vis-a-vis the Palestinian Arabs, before denouncing the "violent and inhumane" behavior of Israeli Prime Minister Binyamin Netanyahu.
Iran's Jewish population lies between 20,000 and 30,000. Despite the country's angry and offensive rhetoric against Israel and multiple threats of annihilation, Iran's Jews are in a complicated situation of having to be loyal to the repressive Islamic regime.
"We are not tenants in this country. We are Iranians, and we have been for 30 centuries," Ciamak Morsadegh, Iran's Jewish parliamentarian, said in a Washington Post interview last year. 
"There is a distinction between us as Jews and Israel," a shopkeeper in the historic city of Isfahan added. "We consider ourselves Iranian Jews, and it has nothing to do with Israel whatsoever. This is the country we love."