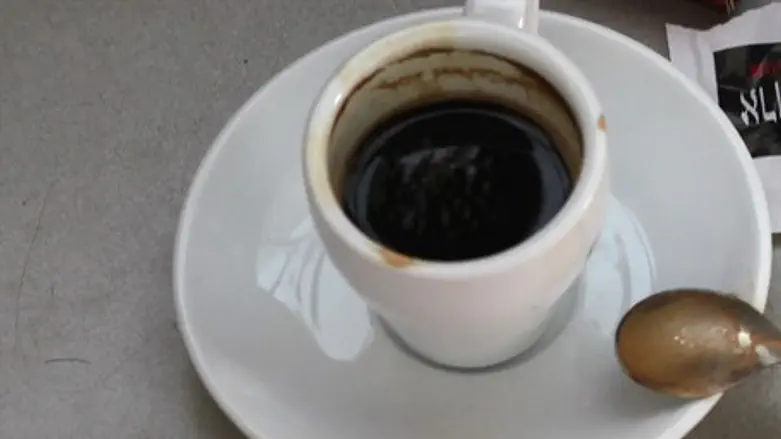 Coffee (illustration)
Flash 90
There are now two Israeli chains that dispense discounted coffee (including the Turkish-type called "botz," or mud, by Israelis) and they don't like each other much.
Cofix was the original five shekel (about $1.30) chain, selling everything - from coffee to danishes to juice to sandwiches - for prices so low that Israelis wondered how they could afford to do it.
When it first opened earlier this year, Cofix said it would make up its money "on volume," and skeptical though they were, Israelis flocked to the chain, which now has dozens of branches around the country.
Apparently, selling snack items for five shekels is a sustainable business model and that has led to the rise of competitors in the five-shekel space, most notably an up-and-coming chain called Cofizz.
But while Israelis are praising the entry of another large five-shekel chain - if only for the shorter lines - Cofix has taken offense at the young upstart's invasion of its turf.
Specifically, Coffix has accused Cofizz of ripping off its business model, logo, and marketing pitch. Coffix, the company said in a lawsuit filed in Tel Aviv this week, worked hard to build its reputation and its identification as Israel's coffee discounter, and Cofizz is unfairly trying to take advantage of this without paying the royalties due its older "brother." Even the name, Coffix said, is too similar, and constitutes a near-theft of its intellectual property and business model.
Six months ago, the company said, it filed a copyright application for its logo and name. That request is still pending, but since Cofix was there first, Cofizz, attorneys said, should respect its application, at the very least.
Nonsense, say attorneys for Cofizz, who agree the company filed for copyrights to its logo and design not long after Coffix. Even so, they add, the Cofizz logo is significantly different from the Cofix logo, and the entire lawsuit is nothing more than sour grapes against a competitor that has an absolute right to sell coffee for five shekels, attorneys said.
Besides, Cofizz owner Amir Amsalem said in a deposition, Cofix has it coming. "I entered into an arrangement to license several outlets of Cofix in Tel Aviv in a franchise scheme, and agreed to work for several weeks in an existing shop in order to learn the business," he said. Amsalem and his partner Danny Mizrachi agreed to the deal, in which they would work without salary, with the implication that they would be awarded a franchise.
But Cofix owner Avi Katz backed out of the deal, he said, telling them after three weeks that they weren't Cofix material.
A very angry Amsalem decided to go out on his own, taking care to develop a logo and image that was different than Cofix's. Subsequently, Amsalem said, he found out that he was not the only prospective franchisee whom Katz had "used" in this manner.
In response, Katz said that the two were incorrect; they were to be paid for their work, and the money was still waiting for them in the Cofix offices.
"Apparently they had planned in advance to conduct themselves in this manner," he said, learning the business and then ripping it off for their own purposes. Katz added that he had indeed denied them a franchise, and that there had been no implication that they would receive one.
After the presentation of the case, the judge called a recess. A decision is expected in the coming weeks.