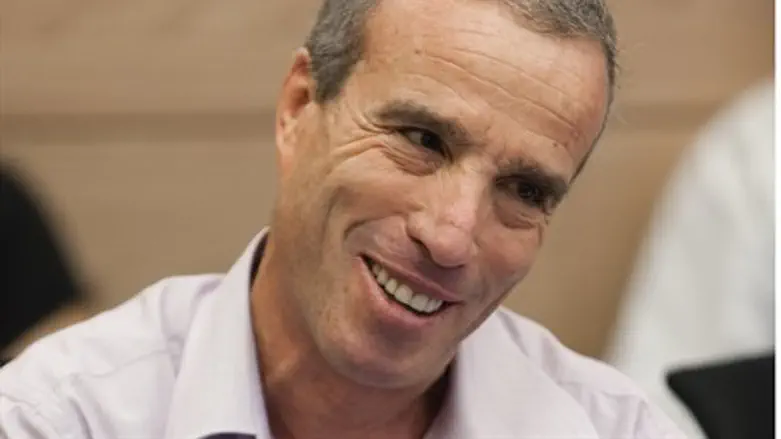 Hatnua MK Elazar Stern
Flash 90
MK Elazar Stern (Hatnua) was unimpressed with Jewish Home chairman Naftali Bennett's election campaign, in which Bennett calls for Israel to "stop apologizing".
In fact, Stern launched a scathing attack against Bennett on his Facebook page on Wednesday, declaring that Bennett had plenty to apologize for, particularly for the fact that, according to Stern, Bennett presented moderate views on religion when in fact he holds extreme views.
"Jewish Home party chairman Naftali Bennett claims he does not apologize. What are you, Naftali, not apologizing for? For the fact that you promised that 'something new is beginning', when in fact you have taken more extreme religious views than all those who came before you? For the fact that you vetoed (!) women joining the electoral body of the Chief Rabbinate?" wrote Stern.
"For the fact that you avoided taking advantage of an historic opportunity to appoint chief rabbis from the religious Zionist movement and brought instead for the election of hareidi rabbis for generations? For preventing the conversion law and only at the last minute, and because there was no choice, you agreed to sign it as a government decision? For opposing freedom of choice for women in the process of divorce and for contributing to their sense of discrimination by the rabbinical courts? For filing an appeal against the law that reduced the corruption in the local rabbinate?"
"For promising a kosher revolution but in fact preventing any real revolution that could have reduced the painful identification between kashrut and corruption? For not taking advantage of this historic political opportunity to influence the Jewish-Zionist character of the state?"
Stern concluded by saying that the people of Israel do not need apologies. "They do not need videos. The people of Israel need leaders who act on behalf of the Jewish identity of the state, and for that they are not prepared to accept an apology," he charged.
Stern and the Jewish Home party were at odds for the majority of the tenure of the last Knesset, mostly over controversial bills that affect the status of Judaism in the Jewish state, presented by Stern and which were opposed by Jewish Home.
In addition to the controversial Conversion Bill which Prime Minister Binyamin Netanyahu eventually shelved, Stern's proposals included a bill giving authority to determine whether public institutions remain open on Shabbat to local authorities and municipalities, removing such authority from the Interior Minister.
Another of Stern's bills would require the Rabbinate to give kashrut certificates to businesses that remain open on Shabbat, so long as they fulfill the requirements of kashrut.
Stern's political future is in question, as the head of his party, Tzipi Livni, recently signed a unity pact with the Labor party. The unity pact ensures Livni's party three reserved spots on the Labor party's Knesset list, one being for her and the other two assumed to be reserved for MKs Amir Peretz and Amram Mitzna. This would probably leave Hatnua's three other MKs, including Stern, out of the Knesset, unless they run with a different party.