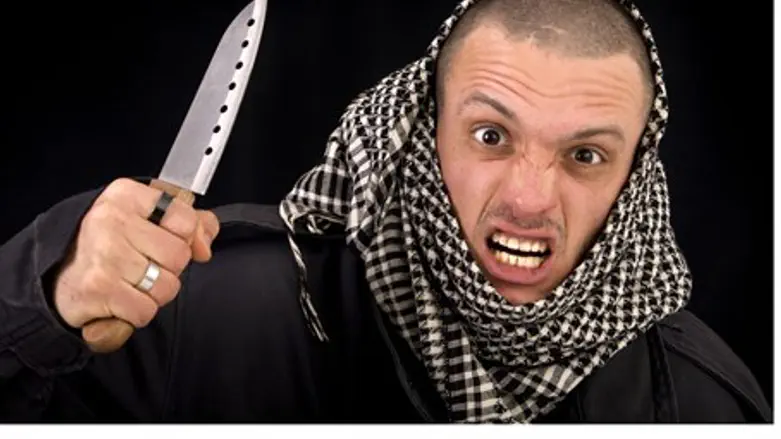 Arab terrorist with knife (illustration)
Thinkstock
As the first night of Hanukkah began on Tuesday evening, a 15-year-old Arab terrorist wielding a knife was arrested at the Gush Etzion Junction in Judea and confessed in investigation to planning "to stab to death a Zionist."
Police announced that shortly after 5 p.m. a citizen contacted the police 100 emergency hotline reporting he had offered to give a hitchhiking youth a ride from Gush Etzion Junction in the direction of Hevron.
The youth stood at a hitchhiking station at the junction, and something about him raised the suspicions of the citizen, leading him to phone the police.
Hevron district police officers accompanied by IDF soldiers from the Kfir Brigade's Duchifat Battalion arrived at the station and arrested the Arab youth - and discovered a knife concealed on his person.
As noted, he admitted in investigation to planning "to stab to death a Zionist," and was brought in for investigation by the Israel Security Agency (ISA or Shin Bet).
The plan brings to mind the statements of a female Arab terrorist who was arrested at the Kalandiya Checkpoint in northern Jerusalem two weeks ago, after approaching the checkpoint with a knife. In investigation she admitted she wanted to "murder Jews."
This is not the first time the Gush Etzion Junction has been targeted. Two weeks ago a female Arab terrorist from Palestinian Authority (PA) Chairman Mahmoud Abbas's Fatah party stabbed a Jew before trying to flee and being shot and seriously wounded.