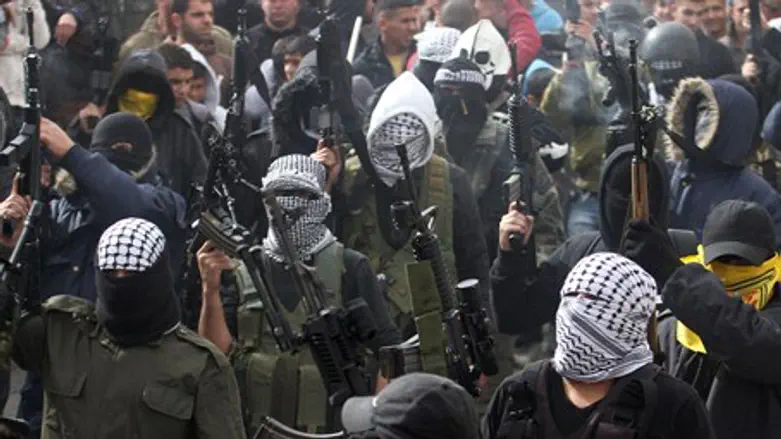 Fatah's Al Aqsa Martyrs Brigade terrorists
Flash 90
The heart-attack death of a Palestinian Authority minister after a scuffle with Israeli soldiers last week has led to a Fatah call to "respond in kind."
Palestinian Media Watch (PMW), an organization that tracks PA media reports, says that, based on past history, this "could be interpreted as a call to assassinate an Israeli minister" and must be taken seriously.
PMW reported today that Fatah's military wing, the Al-Aqsa Martyrs' Brigades, publicized a call to its members "in the West Bank [of the Jordan River, i.e., Judea and Samaria] to respond in kind." They called Abu Ein's death the "assassination of Minister Ziad Abu Ein."
Just today it was announced in Israel that the IDF has been cleared of responsibility for the death of Abu Ein, a convicted terrorist with blood on his hands. Abu Ein was sentenced to life imprisonment in 1982 after planting a bomb in Tiberias that killed two Israelis. He served only three years in jail before he was freed in a prisoner swap.
Abu Ein died of a "stress-induced heart attack," the official Israeli coroner found. Despite this, the PA political establishment has repeatedly called his death a murder, as documented by PMW.
PMW further stated that calling to "respond in kind to the cowardly assassination crime" is a threat that cannot be brushed off. In 2001, after Israel killed terrorist leader Abu Ali Mustifa, head of the Popular Front for the Liberation of Palestine (PFLP), members of the gang "swore to commit surprising and painful revenge attacks against the Zionists," as reported in Al-Hayat Al-Jadida on Aug. 29, 2001.
Precisely two months later, Israeli Cabinet Minister Rehavam (Gandhi) Ze'evi was murdered by PFLP terrorists in a Jerusalem hotel. PFLP leader Ahmad Sa'adat, who planned the murder, said, "The assassination of Ze'evi is in response to the killing by Israel of the Director General of the PFLP, Abu Ali Mustifa."