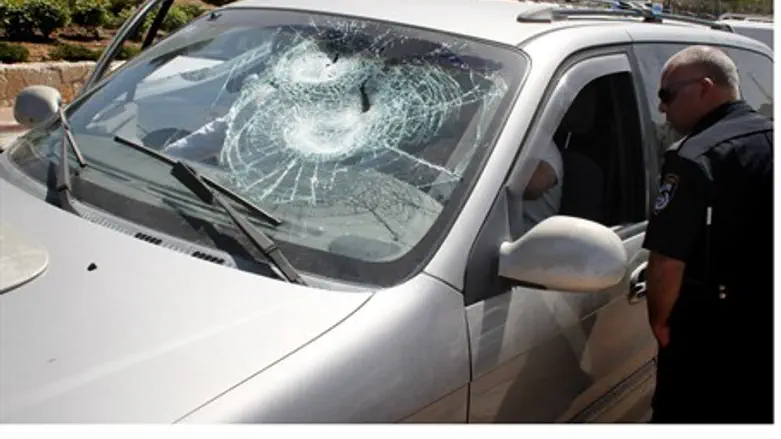 Car windshield smashed in rock attack (file)
Gershon Elinson/Flash 90
A Jewish driver was lightly wounded on Monday afternoon, after Arab terrorists hurled rocks at his car at the Habitot Junction south of Shechem (Nablus) in Samaria.
While rock attacks on Jewish cars in the region have become tragically common, the attack on Monday was somewhat unique in that the driver's wounds came after the unexpected rock attack caused him to lose control of the vehicle and drive into a wall, according to police investigations.
The wounded man was evacuated by Magen David Adom (MDA) paramedics to the Beilinson Hospital in Petah Tikva for medical treatment.
This is far from the first case of a rock attack causing a loss of control over the vehicle; back in August a young father Yedaya Sharchaton was hit in the head by a rock while driving in Judea and was critically wounded as his car flipped. His wife and one-year-old daughter miraculously were unscathed in the attack.
At the time, Har Hevron Regional Council head Yohai Dimri told Arutz Sheva "this isn't the first time that it's been proven rocks are just as dangerous as gunfire or a rocket."
Indeed, back in 2011 Asher Palmer and his infant son Yonatan hy''d were murdered in a terrorist attack, as rocks were thrown through the windshield striking Asher in the face and causing a lethal crash.
The rock attack on Monday comes the same day that the Israel Security Agency (ISA or Shin Bet) revealed arrests in October and November had busted an Arab terror cell from Samaria that, with help from sources in Gaza, was planning an attack in Tel Aviv.
In the planned attack, a female Arab terrorist member of the cell was to dress as a pregnant Jewish woman to smuggle a bomb belt into the city and commit a massive suicide attack.