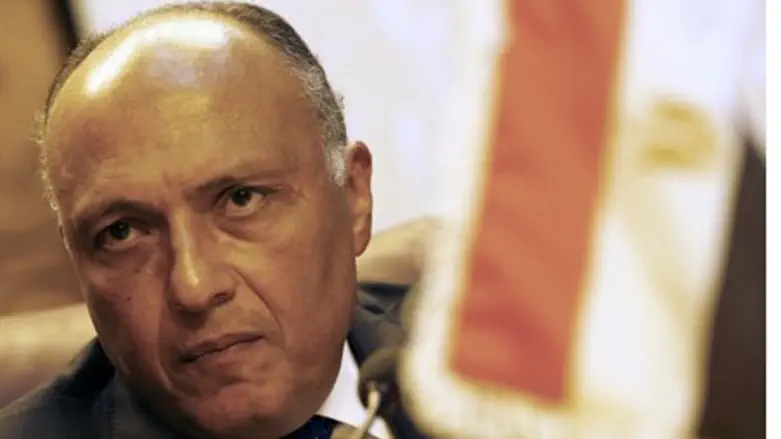 Sameh Shukri
Reuters
Egypt's Foreign Minister Sameh Shoukry warned on Sunday of a possible third intifada by Palestinian Arabs.
Speaking to a British delegation, Shoukry warned that an intifada could break out due to "provocations", according to Daily News Egypt.
The most recent of these so-called "provocations", according to Shoukry, was the incident leading to the death of Palestinian Authority Minister Ziad Abu Ein. He also cited what he termed the "continuation of Israeli settlement expansion activity".
Abu Ein died in Ramallah on Wednesday after suffering a heart attack during a "protest march" in Samaria. Reportedly he had high blood-pressure and diabetes.
Arab sources claim that Abu Ein died after being shoved by Israeli soldiers during a march to plant olives in an apparent land-grab attempt to create facts on the ground.
The Palestinian Authority's leadership blamed Israel for "killing" the 55-year-old and threatened to end the security cooperation with Israel, even after an autopsy conducted by a trilateral Israel-PA-Jordan committee of pathologists confirmed Thursday that Abu Ein indeed died from a heart attack. 
The UN Security Council on the weekend called for a speedy and transparent investigation into Abu Ein's death, urging all sides "to exercise maximum restraint and to refrain from steps that could further destabilize the situation."
In addition to the PA, Israel was also blamed and condemned by countries such as Iran and Turkey for the death of Abu Ein.