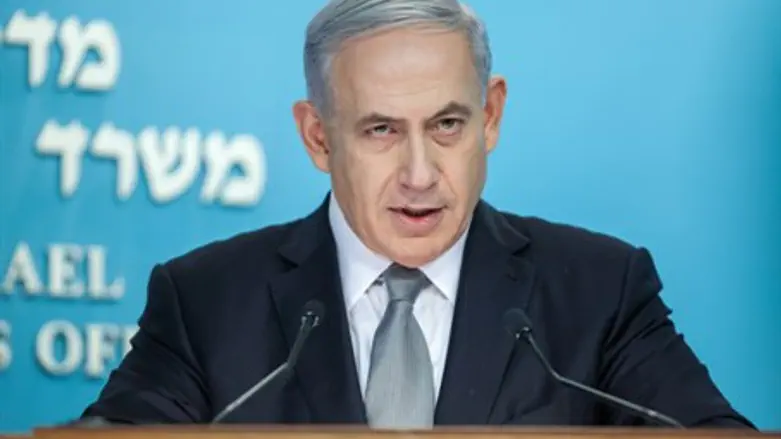 Binyamin Netanyahu
Emil Salman/Flash90
Prime Minister Binyamin Netanyahu addressed US Secretary of State John Kerry's upcoming talks in Rome on Sunday, during opening remarks for his weekly Cabinet meeting.
"Tomorrow I will leave for Rome to meet with Italian Prime Minister Matteo Renzi and US Secretary of State John Kerry," he said. "I will tell them that Israel, to a large degree, stands as a solitary island against the waves of Islamic extremism that are washing over the entire Middle East."
"Until now we have successfully withstood and repelled these attacks and now we also stand against the possibility of a diplomatic assault, i.e. an attempt to compel us – by means of UN decisions – to withdraw to the 1967 lines within two years," Netanyahu continued. "This will lead to Islamic extremists to the suburbs of Tel Aviv and to the heart of Jerusalem."
"We will not allow this," he vowed. "We will strongly and responsibly rebuff this. Let there be no doubt, this will be rejected."
Kerry left for Rome Sunday, where he will conduct talks with Netanyahu in an attempt to push for a Palestinian state in Judea and Samaria, as well as meet with the Russian Foreign Minister Sergey Lavrov over its own conflict with Ukraine. 
"There are a lot of different folks pushing in different directions out there, and the question is can we all pull in the same direction," Kerry said Friday, when asked about his meeting with Netanyahu. "We're trying to figure out a way to help defuse the tensions and reduce
the potential for more conflict, and we're exploring various possibilities to that end."
Gadi Eizenkot 'the right man' for IDF Chief of Staff
Netanyahu also welcomed the appointment of Gen. Gadi Eizenkot as the next IDF Chief of Staff.
"Gadi Eizenkot is the right man in the right place at the right time," Netanyahu stated. "Gadi has been a soldier and a commander. He is a veteran commander and he can lead the IDF in the face of the major challenges that surround us." 
"The challenges are unceasing; they are not taking even a moment's respite, and I am convinced that with determined, responsible and strong leadership and policy, along with Gadi's command of the IDF, we will be able to overcome any and all obstacles and challenges," he continued.
"I wish Gadi Eizenkot great success; his success in all areas is our success."
Eizenkot was appointed earlier Sunday. On Wednesday the Turkel Committee approved Eizenkot's appointment, which was announced in late November by Netanyahu and Defense Minister Moshe Ya'alon. 
Eizenkot, 54, will replace the current Chief of Staff, Lt. Gen. Benny Gantz, in mid-February. He has been serving for the past two years as the IDF's Deputy Chief of General Staff. 
Moving forward on Druze plan
Netanyahu concluded by noting his support for a special government project to aid the Druze and Circassian communities.
"Today, the Cabinet will also discuss a five-year plan to aid Druze and Circassian communities," he said. "I recently met with Druze community leaders, led by Sheikh Muwafaq Tarif. I told him that we would be submitting this plan."
The Prime Minister then explained the plan in brief.
"This is a wide-ranging plan on infrastructures, employment, education and other issues and it will do two things," he said. "One, it will reduce gaps between this population and the population at large. Two, it will express appreciation for the unique role of Druze and Circassian policemen and soldiers, who are our very flesh, who fight and fall in defense of our people."
"I think that this is one of the ways to express this appreciation," he added. 
Netanyahu's statements follow the deaths of Israel Police Master Sergeant Zidan Nahad Seif, who was killed in the terrorist attack on in Har Nof, Jerusalem, and Border Police Chief Inspector Jidan Assad, who was killed on November 5 when a Palestinian terrorist deliberately rammed his car into a crowd of people at a light rail station in Jerusalem.
During a condolence visit to Druze leaders last month, he stated that the group is "an organic part of Israeli society" and expressed his heartfelt gratitude for not only the two officers' roles in the attacks, but for the Druze community's service in the IDF and Israeli society in general.