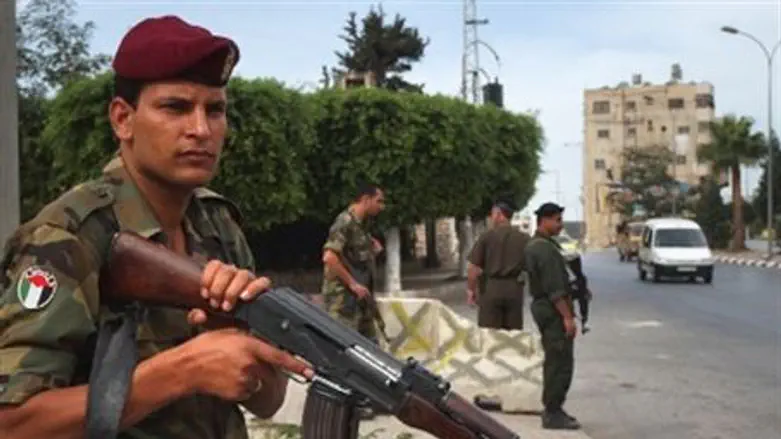 PA police officer (file)
Flash 90
The Palestinian Authority (PA) leadership has decided to postpone a critical meeting over whether to halt security coordination with Israel until Sunday, Channel 10 reports Friday - the second postponement in one week.
The threat to cut security coordination came after Ziad Abu Ein, 55, a convicted terrorist who previously held the post of PA Deputy Minister of Prisoners' Affairs, died Wednesday of a heart attack during riots against the IDF. 
Arab media claimed Abu Ein died after being "beaten" by IDF soldiers, but footage from the event proves that he remained untouched during his heart attack - and refused IDF assistance that could have been life-saving.
An autopsy conducted by a trilateral Israel-PA-Jordan committee of pathologists confirmed Thursday that Abu Ein - who suffered from multiple health conditions - indeed died from a heart attack. 
PA Chairman Mahmoud Abbas responded by declaring that he would cancel security coordination with Israel over the death, and that talks would be held on the matter Thursday, but that meeting was postponed to Friday - and postponed again today. 
Several MKs stated Wednesday that the decision would only harm the PA - especially considering the IDF's role in fending off Hamas operatives in the PA.
"Abbas is the problem, not the solution," MK Orit Struk (Jewish Home) and MK Yariv Levin (Likud), Chairman of the Land of Israel Caucus in the Knesset, released in a joint statement Wednesday afternoon. "Whoever funded a terrorist by making him a minister, and then sends salaries to terrorists to confront [IDF] soldiers can only blame himself." 
Both said that Abbas is conveniently forgetting that the IDF and Israel Security Agency (ISA or Shin Bet) is the sole protection Abbas has from Hamas. A major coup against Abbas was busted by Israel in August.