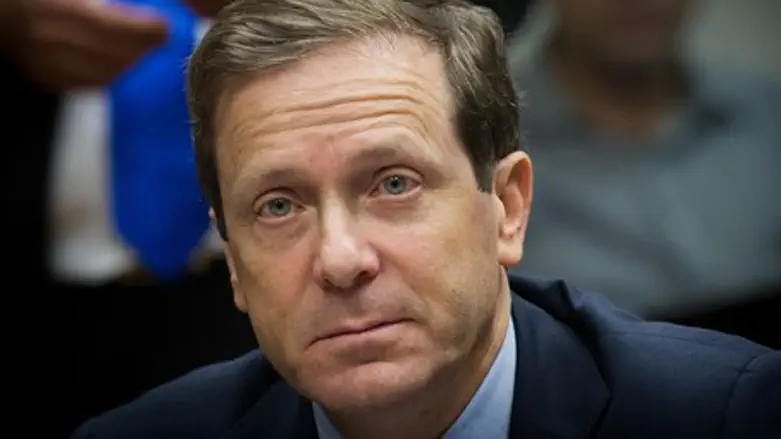 Yitzhak Herzog has a gay problem?
Miriam Alster/Flash 90
An unusual opinion piece was written on Thursday by homosexual journalist Gal Ohovski in Channel 10's Mako Magazine, in which he warned leftist Labor party head Yitzhak Herzog that he has to make changes - or else face a "big problem" with the gay community.
"Your party is in a very problematic situation. Veryyyyy (sic) problematic," wrote Ohovski, claiming that in Labor there is an MK "in the closet" who must come out if Labor is to secure gay votes. 
Calling it a "shame" and "disgrace" that there is a Labor MK hiding his or her homosexuality, Ohovski said he wasn't speaking of mere rumors, but rather "I'm talking about people who live openly in our community but when they come to the Knesset ask to hide this fact."
The gay journalist added that if Labor's "hidden" gay MK would open up it could gain more votes for his party, noting that far-left Meretz party MK Nitzan Horowitz, who is gay, recently got press coverage by doing an AIDS check to raise awareness, and that Labor could do the same with its own gay MK.
"There's no choice, soon you will need to focus on our community...and it's even worth it for you, because as your partner Tzipi Livni knows, our community is not a small electoral asset," said Ohovski, noting on Livni's support from the gay community in 2009 elections when she led Kadima.
Ohovski also noted on the political involvement of the gay community, remarking on how Yesh Atid passed a law giving same-sex couples equal tax breaks. Jewish Home supported the law after initially opposing it, with Naftali Bennett voting for the law and other MKs abstaining.
In spurring Herzog into action, Ohovski added "Likud has the most active and strongest gay group in the Knesset. It is led now by a very serious person named Amir Ohana."
Critical of Herzog, the journalist continued "in the last elections there wasn't any recruitment of the community for your party's benefit. ...I of course won't vote for a party that has homosexuals in the closet. ...In my eyes that's the most infuriating sort of hypocrisy."
It goes without saying that homosexuality is forbidden by Jewish law; it remains to be seen if Labor will follow Ohovski's petition and if so, whether or not there might be a backlash by Labor supporters who see this as a step too far.