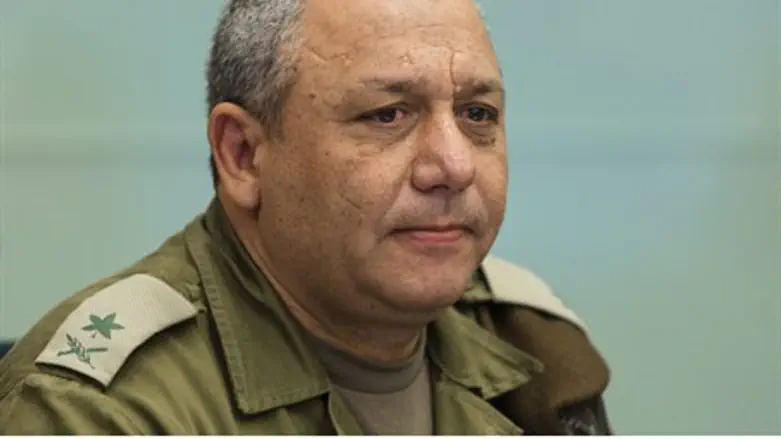 Gadi Eizenkot
Flash 90
The Turkel Committee for Examination of Senior Appointments approved Wednesday the appointment of Major General Gadi Eizenkot as the IDF's 21st Chief of General Staff.
The appointment will be brought for approval to the government on Sunday.
The members of the Turkel Committee, which is headed by retired Supreme Court Judge Ya'akov Turkel, met Eizenkot this week – as well as Prime Minister Binyamin Netanyahu, Defense Minister Moshe Ya'alon (Likud) and outgoing chief of staff Lt. Gen. Benny Gantz. The committee looks into high-ranking appointments to make sure that they comply with rules, regulations and ethics.
Eizenkot was apparently not Prime Minister Netanyahu's preferred choice for chief of staff.
According to some reports, Netanyahu hoped to bring Major General (res.) Yoav Galant back into the IDF for the position, despite Galant's retirement after being rejected for the position in 2011, amid media accusations of improper behavior in a dispute with neighbors over land. When this proved impossible, Netanyahu met with Eizenkot, and the two reportedly discussed a letter Eizenkot had sent Netanyahu, in which he voiced his objections to a possible IDF strike in Iran.
According to unconfirmed reports, Netanyahu wanted to make sure that if instructed to conduct a strike against Iran, Eizenkot would follow orders.
Eizenkot, 54, has served over the past two years as Deputy Chief of Staff. As a young soldier, he was originally assigned to the Golani Brigade, which he himself eventually commanded from 1997 to 1998.
In 1999 Eizenkot was selected Military Secretary for the Prime Minister and the Minister of Defense under then Prime Minister Ehud Barak. He later commanded the 366th Division and the Judea and Samaria Division. He was promoted to head of the IDF Operations Directorate in June 2005.
In October 2006, Eizenkot became head of the Northern Command, replacing Maj. Gen. Udi Adam, who resigned amid criticism over his conduct in the Second Lebanon War.
Shas leader MK Aryeh Deri has expressed pleasure over the fact that Eizenkot is the IDF's first chief of staff of Moroccan-Jewish descent.
Eizenkot will replace the current Chief of Staff, Lieutenant General Benny Gantz, in February.