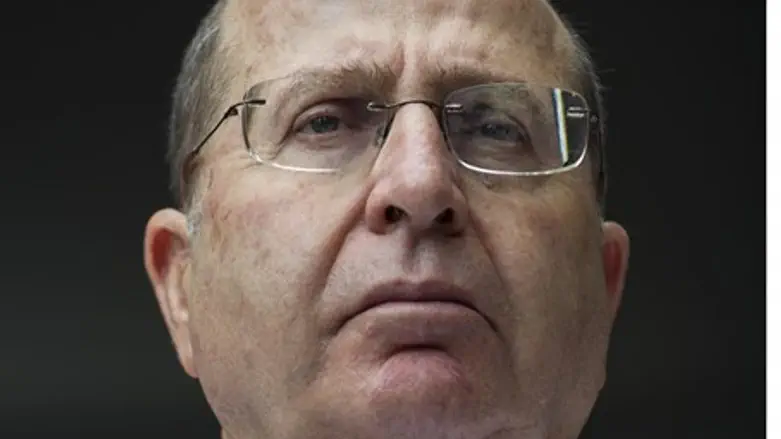 Moshe Ya'alon
Miriam Alster/Flash 90
Defense Minister Moshe Ya'alon (Likud) spoke on Tuesday with students at the Mekor Chaim Yeshiva in Gush Etzion, the school attended by two of the three teens murdered by Hamas terrorists in June, and while there he was asked an uncomfortable question.
In recordings of the meeting broadcast on Wednesday morning by Galei Tzahal (IDF Radio), a student is heard asking "why did you hold a (construction) freeze in the settlements?" The reference is to the unilateral freeze on Jewish building in Judea, Samaria and eastern Jerusalem.
Ya'alon answered by blaming US President Barack Obama, noting that pressure from Obama led to the freeze, adding "but this administration won't last forever."
Reportedly Prime Minister Binyamin Netanyahu was offered to select between the freeze or terrorist releases in peace talks that collapsed in April - he chose to release terrorists, but also covertly froze building, a freeze that has continued even after the Palestinian Authority (PA) torpedoed talks.
Given that Judea and Samaria are technically under military rule, since Israel never annexed the territories after liberating them in 1967, Ya'alon himself has a final say on new construction there.
"I really want to approve the plans and build more - currently the topic leads to (negative) responses first of all from the Americans, and afterwards threats from various sources," said Ya'alon. "Therefore, we are really really cautious not to raise tensions too much. I hope it's temporary, because currently there's a certain administration in the United States, the United States is leading the line."
Regarding the tensions from America, aside from the harsh condemnations from Obama's administration following every building announcement, recent reports suggested Obama might level sanctions in response to construction - though the US State Department has denied the reports.
Ya'alon repeatedly emphasized in his talk the need to be cautious in terms of building in the region, which reportedly is over 90% unpopulated, and development of which has been presented by many as a solution to Israel's severe housing crisis.
"Israel is in its greatest disadvantage in the international system," said Ya'alon. "Publications on building, even in Jerusalem, lead to responses from different sources including our friends who attack us."
Jewish Home ministers "understand" the freeze
While Netanyahu is leading the "cautious" approach, Ya'alon noted that he has agreed to it as well - and indicated that Jewish Home ministers had also given their consent to the freeze.
"Therefore we are very very careful about this," Ya'alon said. "It is of course led by the prime minister but I understand the need. Also ministers in other parties that very much want to build, like Jewish Home, understand the need."
The Jewish Home members forum in Judea and Samaria last month expressed their concern that Jewish Home MKs are sitting in a government that freezes construction, calling for action on the phenomenon which will hold long-term implications for the region.
Ya'alon said the freeze applies to planning tenders, but that already authorized tenders are being built. The Jewish Home forum noted this point, saying that the currently ongoing building is deceiving residents of the region who don't realize in another year there won't be any building whatsoever.
"Look at the last year - the settlements in Judea and Samaria, I'm familiar with the numbers, they grew by 20,000 people. There's no growth like this in any other region in the country," said Ya'alon.
Sources close to Ya'alon said that while the US and Israel enjoy close security ties, "there are several arguments between the countries on different topics, and they don't decrease the appreciation and recognition of minister Ya'alon for the United States' and the American administration's contributions to Israel's security."
They added that America "is Israel's greatest friend, and its strategic support."
Late last month Ya'alon was asked about a number of unfair practices in Judea and Samaria, and admitted to numerous unjust activities favoring illegal Arab buildingthat change facts on the ground.