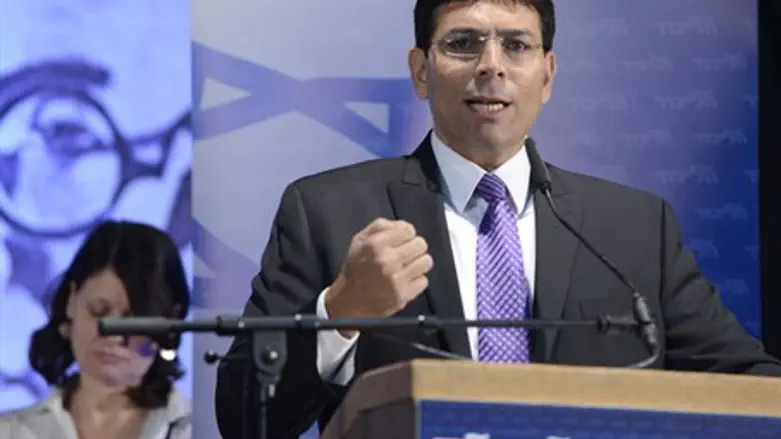 Danny Danon at Likud meeting (file)
Flash 90
Likud Committee Chairman Danny Danon has become the first candidate to compete against Prime Minister Binyamin Netanyahu in the Likud primaries Monday, after submitting the signatures necessary to back his candidacy.
Upon submission of the signatures at Mezudat Ze'ev Monday morning, Danon told the media that in his view, the Likud has "strayed" from its true values in recent years.
"It's time to talk 'Right' and do 'Right,'" Danon said, "both regarding national-security and socioeconomic issues." 
"Likud members expect and require us to maintain the spirit of democracy as the largest party in Israel," he continued. "I will be on guard to not act in the spirit of opportunism which will harm Likud and its partners." 
Danon's comments are similar to remarks he made to Arutz Sheva shortly after Netanyahu sacked Finance Minister Yair Lapid (Yesh Atid) and Justice Minister Tzipi Livni (Hatnua), effectively dissolving the coalition. 
"The makeup of the coalition undermined the governance, the mistake was that instead of forming a government with Bennett and the hareidi parties, [Prime Minister Binyamin Netanyahu] first of all added Tzipi Livni," Danon said at the time. "That was a mistake, and we saw that Livni and Lapid did nothing but mess things up." 
According to a poll by the Think Tank Institute published Sunday, Likud would gain 17 seats in the elections in the event Danon was elected party leader in the upcoming primaries. The result just barely seconded to the seats to be gained by MK Moshe Feiglin, who would gain some 18 seats in the event elections were held today.
Both would garner significantly fewer seats than current leader Binyamin Netanyahu, however, under whose leadership the party is predicted to receive some 50% more mandates according to polls.