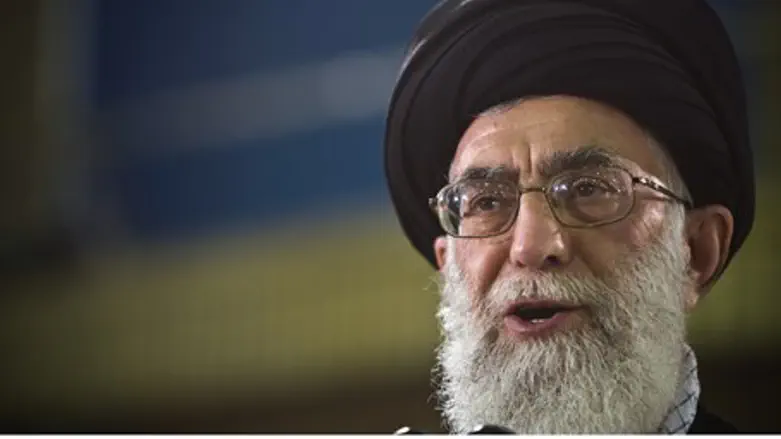 Iran's Supreme Leader Ayatollah Ali Khamenei
Reuters
The family of a Washington Post correspondent who was quietly arrested in Iran in July has called on Iranian Supreme Leader Ayatollah Ali Khameinei to release him Sunday, saying that the arrest "violates its own laws."
Post correspondent Jason Rezaian, who holds dual American and Iranian citizenship and has been stationed in Tehran writing for various foreign press outlets since 2008, has been officially charged with unspecified crimes against the State. 
Rezaian and his wife, fellow journalist Yeganeh Salehi, who writes for the United Arab Emirates (UAE) paper The National, were arrested in a surprise raid on July 22, 2014. 
Iran confirmed the arrests some three days later, after Tehran General Prosecuter Gholamhossein Esmaili said, "the security forces have the whole country under surveillance and control the activities of enemies. They will not permit our country to become a land where our enemies and their agents carry out their activities."
He refused to specify why the couple had been arrested.
Salehi was released on October 6, but Rezaian remained - and his family has taken Tehran to task over the arrest. 
His family released a statement on Sunday saying that they are "deeply saddened to confirm that, after being held in solitary confinement without charge for 137 days, Jason Rezaian was charged with unknown crimes by the government of Iran."
"In its ongoing disregard of Iran's own laws, the Iranian judiciary has continued to deny Jason access to legal representation, denied his request for bail, and prevented access to review of his case file," the statement added. 
The US State Department has taken up the cause as well, with US Secretary of State John Kerry tweeting a demand for Rezaian's release on Sunday. 
John Kerry himself stated recently that he is personally "distressed" by Jason's case.
"We are also distressed by reports that Jason was not allowed access to an attorney, which is a clear violation of Iran's own laws and international norms," Kerry said in a statement. "I am personally dismayed and disturbed at these reports as I have repeatedly raised Jason's case, and the other cases of detained or missing U.S. citizens, directly with Iranian officials."
"We share the concerns of Mr. Rezaian's family regarding reports that he is under physical and psychological distress, and is not receiving proper medical care," he added. "The Iranian government continues to deny our repeated requests for Consular Access to Jason by our Protecting Power, the Swiss, so we are unable to check on his condition or ensure adequate legal representation."
"Jason poses no threat to the Iranian government or to Iran's national security," Kerry added. "We call on the Iranian government to drop any and all charges against Jason and release him immediately."
The Washington Post has covered the case extensively, meanwhile, as it waits for Rezaian to come home. 
"We're appalled by the injustice of it all," Washington Post Executive Editor Marty Baron said in an email to CNN Sunday.
"It's disgraceful treatment of a good and decent man. There is no justification for his continued imprisonment, just as there was no justification for his arrest in the first place," Baron wrote.
Baron has previously said that "the Iranian government has never explained why Jason was detained or why he has been held for more than four months without access to a lawyer," noting that "Jason is an American citizen who was acting as a fully accredited journalist. ... Any fair legal proceeding would quickly determine that any allegations against him are baseless."
Iran is one of the 10 worst countries worldwide for freedom of the press, according to Reporters Without Borders's 2014 World Press Freedom Index. The Islamic Republic ranked 173 out of 180 countries surveyed, outranked in terms of censorship and suppression only by Vietnam, China, Somalia, Syria, Turkmenistan, the Democratic Republic of the Congo, and Eritrea. 
A different survey by the NGO Freedom House placed Iran at 192nd out of 197 countries ranked by freedom of the press in 2014.