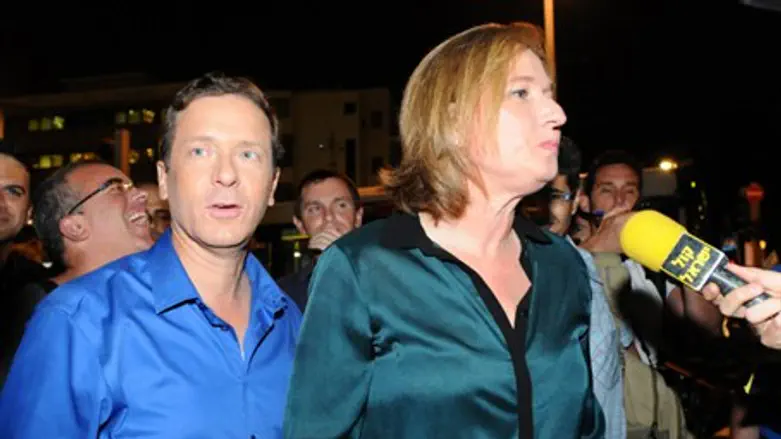 Livni and MK Herzog at Tel Aviv protest
Flash 90
Deputy Transportation Minister Tzipi Hotoveli (Likud) mocked the possibility of Yesh Atid, Hatnua, and Labor joining forces to create a central-left political bloc for the elections. 
"A left bloc? Three failed politicians who individually couldn't get the public's trust now want to unite to form one big failure!" Hotoveli wrote mockingly in a status on her Facebook page Sunday. 
"The leftist camp has long since lost its way," she continued, echoing sentiments shared recently in Washington by Israel's former ambassador. "The only thing that glues them together is their hatred of Netanyahu. There is no direction...no leadership...and no one to vote for in the Left." 
In the days since the coalition dissolved, Hotoveli has made multiple comments on her Facebook page about upcoming elections.
She has made repeated appeals to other right-wing parties, such as Jewish Home, to form a united bloc with Likud, and has also called on former Likud minister Moshe Kahlon to "return to his roots," by only agreeing to join a nationalist government led by Likud. 
Meanwhile, politicians and activists on the other end of the political spectrum have been calling on the leftist parties to create a united front before the March 17 elections. 
And in fact, Channel 10 News reported on Friday evening that Hatnua chairwoman Tzipi Livni and Labor chairman Yitzhak Herzog are very close to reaching an agreement under which they will run together in the next elections.
Former Israel Security Agency (ISA or Shin Bet) Chief, Yuval Diskin, whose left-wing views have become more apparent since his retirement, addressed the issue on his Facebook page. 
Diskin stated that he has no intention to run in the upcoming elections to the Knesset, despite rumors to the contrary, but that he does plan to be a part of overthrowing the Netanyahu government. 
"We must insist - and not accept any excuses - from the heads of center and left parties to put their egos aside, and unite around the goal to bring us to this road," Diskin wrote. 
"And if we see that one of them does not give up his/her ego - we will organize and ourselves and 'punish' him/her at the polls in the most obvious was possible," Diskin added. 
"I plan to join forces in the near future with many good people I met working outside of the party system to help allow this to happen. I also call on everyone to be part of this effort."  
According to a poll conducted last week by the Rafi Smith Institute for Globes, if Livni and Herzog were to run together they could expect to get 24 seats and become the largest party, outstripping Likud by one mandate.