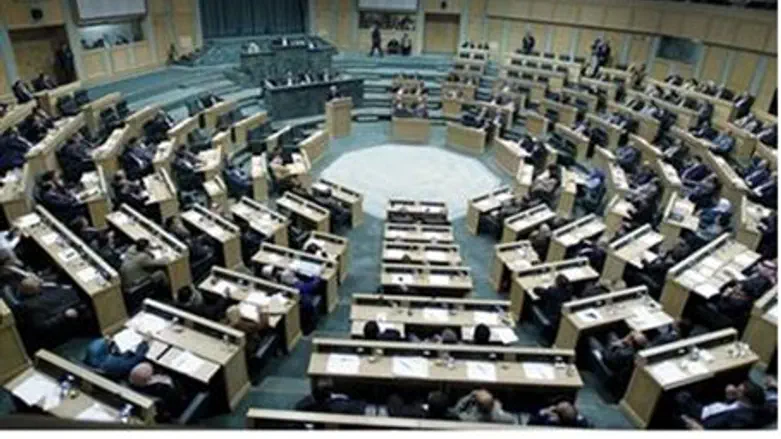 Jordan's parliament
Reuters
The Jordanian parliamentarian who led a prayer in parliament in honor of the two terrorists who murdered five people in a Jerusalem synagogue has reaffirmed his hatred for Jews.
"I hate the Jews, I hate the Jews, I hate the Jews," the MP, Khalil Attieh, on a television show featuring Jordanian MPs discussing parliament's moment of silence in memory of the two terrorists.
The show aired on Jordan's Roya TV on November 26. Excerpts were translated by the Middle East Media Research Institute (MEMRI).
"Indeed, I make use of the hatred of the Jews, as all Arabs should, because the Jews respect neither treaties nor human beings. They respect nothing. That accursed ambassador did me a great honor by saying that I hate the Jews. Yes, I hate the Jews. I hate the Jews. I hate the Jews," said Attieh.
"What have the Jews ever given us? They do not respect Jordanian custodianship [of the Al-Aqsa Mosque]. They do not respect treaties. They kill our people. They prevent worshippers from entering the Al-Aqsa Mosque. They destroy homes and seize control over everything. This is the least we could have done. Thank God that we got them mad," he continued.
"Hating the Jews is a great honor for me and it makes me walk with my head high, because they are worthy of hatred. They are decent people. Any man of honor should hate the Jews," added Attieh.
Despite Israeli Prime Minister Binyamin Netanyahu recently assuring Jordan's King Abdullah that Israel is committed to the peace treaty between the two countries, the mainly Islamist Jordanian government has been striking a far less conciliatory tone, with ministers calling on the king to revoke the peace treaty with Israel.
In a recent TV interview, also translated by MEMRI, Jordanian MP Rudaina Ati praised "the (Jerusalem synagogue) operation" for sending "a clear message to the Zionist entity and to Stink-iyahu," referring to Israel with the term used by belligerent Arab states who refuse to recognize the existence of an independent Jewish state.
Jordan's Prime Minister, Abdullah Nsur, has more than once ruled out the possibility that his country would cancel the peace deal with Israel, despite parliament's calls to do so.