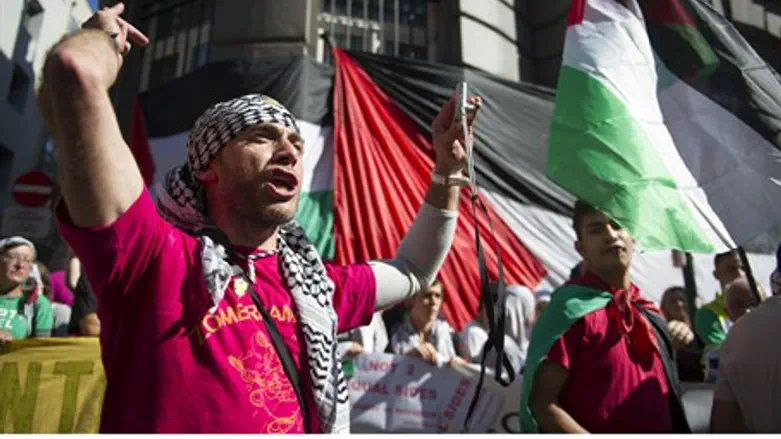 Anti-Israel protesters (file)
Flash 90
Belgium is jumping on the "recognition of Palestine" bandwagon, according to The Associated Press (AP).
The news agency reported that Belgian legislators are working on a resolution to recognize a Palestinian state but the government says any timing to proceed will depend on European Union action.
Belgian Foreign Minister Didier Reynders said on Wednesday he first will push for a new EU initiative to bring Israel and the Palestinian Authority (PA) back to the negotiating table to reinvigorate the peace process.
Belgian legislators are completing work on a text and it was still unclear when the resolution would be tabled, said an official from a leading coalition party, who spoke on condition of anonymity because the process was continuing.
On Tuesday, French lawmakers voted in favor of recognizing the "state of Palestine. The symbolic vote in the lower house National Assembly passed with 339 in favor and 151 against.
France is spearheading a UN Security Council resolution for the PA to demand a withdrawal timeline for Israel to be forced out of its Biblical heartland of Judea, Samaria and parts of Jerusalem by November, 2016.
British lawmakers voted overwhelmingly on October 13 in favor of a non-binding motion to "recognize the state of Palestine"; Sweden announced on October 30 it officially recognized the state of "Palestine"; and two weeks ago, Spanish lawmakers adopted a motion calling on the government to recognize a Palestinian state.
Denmark is also set to make a similar vote on December 12, and afterwards the PA has said it will push for votes from Austria and Finland.
United Nations Secretary-General Ban Ki-moon recently predicted that that the "momentum" of countries recognizing the "state of Palestine" will grow.
"Governments and parliaments are taking action. That momentum will grow," he said.