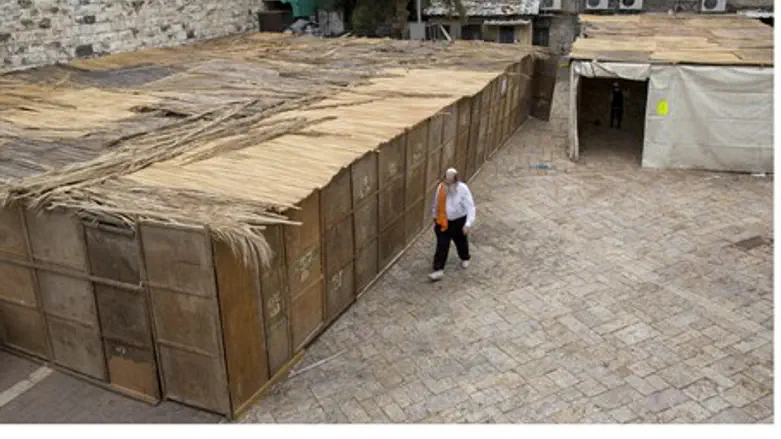 Sukkot (illustration)
Yonatan Sindel/Flash 90
The Jewish community in the Montreal borough of Outremont is outraged over a new borough council vote Monday to only allow sukkot - booths Jews are required to dwell in during the autumn holiday of the same name - to be up for three business days before and after the holiday.
The council vote was decried by Mayor Marie Cinq-Mars, who said the move would cause even greater friction to an already tense coexistence between the large hassidic and non-Jewish communities, reports the Canadian National Post.
"We are positioning ourselves as the most restrictive municipality in the world," hassidic Councillor Mindy Pollak said ahead of the vote.
Pollak added "we are continuing to uphold the unfortunate, longstanding tradition of confrontation, distrust, lack of response to the needs of our citizens and a worsening of the cohabitation between neighbors. This is an outrage. I vote against it."
Other Montreal boroughs allow Jews to have their sukkot up for seven days before and after the holiday, allowing ample time to build and take down the temporary structures. Pollak proposed extending Outrement's current 15 total days of having the sukkah up so as to be in accord with other boroughs.
Not only was the period not extended, but rather Councillor Céline Forget who has long opposed the hassidim changed the proposal to three days before and after the holiday.
The Outremont vote will likely be challenged in court according to Steven Slimovitch, a lawyer who represented Jewish rights in a Supreme Court of Canada case in 2004, which ruled that a condominium complex in Montreal had breached freedom of religion rights by forbidding the building of sukkot.
"It's clearly not a move along the path of respect for the concept of freedom of religion," said Slimovitch.
Outremont has already had discriminatory laws challenged in court. In 2001, the hassidic community won a case after the borough banned them from establishing an eruv, a string boundary allowing certain acts to be performed on Shabbat that would be otherwise forbidden.