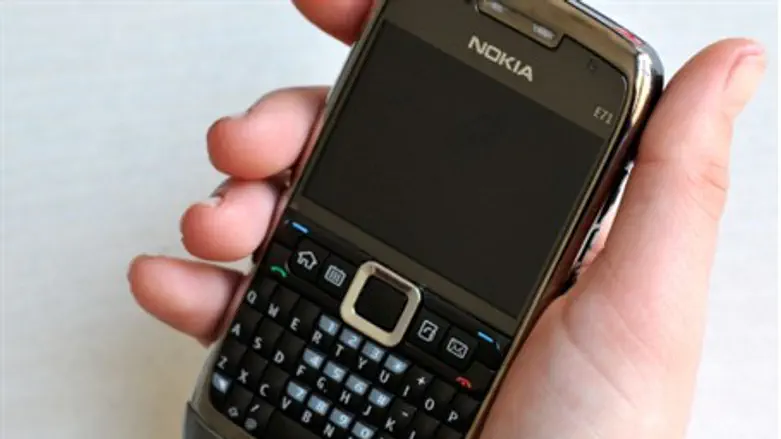 Cell phone (illustrative)
Israel news photo: Flash 90
The already low cellphone service prices in Israel are set to drop even lower, after the entry of yet another low-cost service provider to the market.
Walla Phone is now open for business, and is offering a discount deal of unlimited calls within Israel, plus 3 gigabytes of data surfing, for NIS 39 (about $10) a month.
Walla Phone is a low-cost consumer-oriented subsidiary of established service provider Pelephone, which has rebooted itself as a provider for businesses and organizations. Pelephone itself announced a new discount package – NIS 89 ($23) per month, with 5 gigabytes of data surfing.
Both announcements signal a new battle in the endless war for consumers that kicked off several years ago, when the laws in Israel were changed to allow consumers to drop cellphone service any time without penalty, and to allow low-cost providers onto the market.
Following the Walla Phone announcement, another discount service provider called YouPhone said that it would offer customers unlimited calls and 1 GB of data surfing for NIS 29 ($7.50) a month, with the option to increase that to 4 GB for an extra NIS 20.
Not to be outdone, original "discount king" Rami Levy Communications said this week it would offer customers a variety of packages between NIS 20 ($5.10) and 50 ($13) a month – all with unlimited calls within Israel, and some with unlimited calls to a variety of international destinations.
Golan Telecom, another discount leader, is offering a package for NIS 10 per month ($2.65) for 60 minutes of phone time and unlimited SMS text messaging. Walla Phone will meet that price, but give users 80 minutes of talk time.
Speaking to business daily Globes, one market expert said that "today there is no excuse for anyone to be paying more than NIS 40 a month for service with several GB of data use."