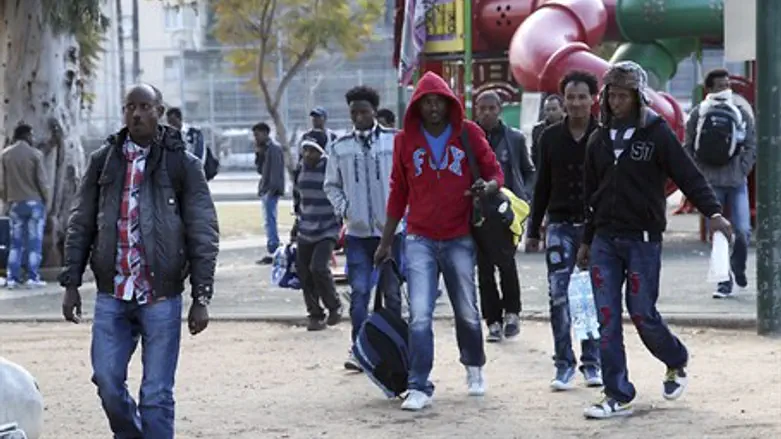 Infiltrators in Tel Aviv playground
Gideon Markowicz/Flash 90
As Prime Minister Binyamin Netanyahu on Tuesday effectively disbanded the coalition government, Yonatan Yakubovich, head of the NGO Israeli Immigration Policy Center's publicity department, explained coming elections would harm the Infiltration Law.
Yakubovich told Arutz Sheva that "without a new law, they will be forced to release all the infiltrators; we anticipate that ahead of elections there will be difficult problems in passing the law and cooperation between the different parties will reduce."
After the High Court struck down two earlier versions of laws proposing steps against illegal infiltrators, the Knesset on Sunday passed a watered-down version that would allow infiltrators to be held for three months in the Saharonim closed facility, then transferred to the open Holot facility to be held for up to 20 further months.
The government is closing in on a deadline given by the High Court to approve an alternate version to the previous law that allowed infiltrators to be held for a year without trial as their status was confirmed. If the new law fails, the Holot facility will have to be closed by December 22.
According to Yakubovich the latest version of the law is a joke, saying "20 months in a detention facility is not enough, we still are trying to convince the Interior Committee to increase the period. We have to remember that some of them (illegal infiltrators) stand to be freed soon."
"The better solution would have been if they had suggested turning the (detention) facility into an open facility that could hold all the infiltrators for a long period, which would also be good with the High Court because it wouldn't be a closed facility," said Yakubovich.
"The High Court certainly limited the tools at the state's disposal, and we expected that the government would take the initiative into its hands and legislate an increase law that would allow the Knesset to ratify anew laws that the High Court invalidated," said Yakubovich. "For now that hasn't happened, and the current law is definitely not enough."
His words echo those of MK Ayelet Shaked (Jewish Home), who on Tuesday told the Interior Committee that the new law is weak, noting that European law allows illegal infiltrators to be held not for three but six months.
Figures presented by the state have shown the overwhelming majority of infiltrators are not refugees, as claimed by human rights groups, but rather are simply infiltrators breaking the law in their search for better job opportunities.
The tens of thousands of infiltrators have particularly exposed residents of southern Tel Aviv to endless crime, with many Jewish residents saying they are terrified of leaving their homes and begging the government to take action.