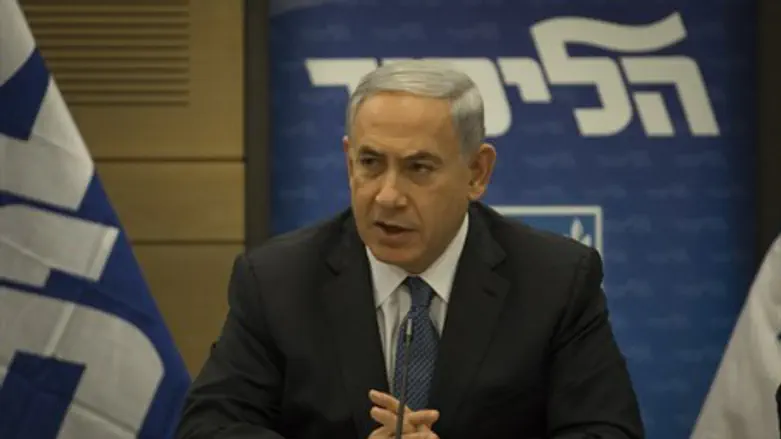 Prime Minister Binyamin Netanyahu
Hadas Parush/Flash 90
Prime Minister Binyamin Netanyahu issued sharp criticism against several of his ministers, particularly Finance Minister Yair Lapid, blaming them for the current coalition crisis.
"The government must work in harmony," Netanyahu stated during a Likud faction meeting Monday. "For this reason I supported bills that I did not feel 'complete' over, such as [Lapid's - ed.] 0% VAT bill."
"I did not get mutual support nor responsibility from government ministers," the Prime Minister continued. "They attacked me over construction in Jerusalem and exposed me to criticism. They violate agreements obtained explicitly to provide real boosts to Israel's security and try to knock me down." 
"I demand that these ministers stop their subversions and attacks," he added. "If you agree, we can continue together; if you refuse, the [decision] will go to the voters." 
Netanyahu also clarified that, in his view, the current coalition cannot remain. 
"A government cannot function if ministers are constantly attacking its policies," he warned.
Netanyahu's warning follows weeks of coalition tensions, after outspoken views against the controversial Jewish State Law took an intra-Knesset conflict between the left and right wing into Israel's streets. 
Ratification of the Jewish State Law, which aims to elevate the status of Israel's Jewish character in the legal system and concretize Israel's status as the Jewish national homeland, was a crucial part of Netanyahu's coalition agreement - and opposing votes threaten to torpedo that agreement. 
Despite this, several ministers - including Lapid and Justice Minister Tzipi Livni - have declared intent to oppose the vote regardless, prompting a furor over the possibility of new elections.
The announcements were followed by several moves by Opposition parties to bring their opposition to Netanyahu to the public, resorting to statements to the media, bills proposing a fundamental change in election procedures, and yelling at right-wing MKs during Knesset hearings to channel their outrage over the law. 
Netanyahu's warning also follows news earlier Monday that threats to bring down the government could become actualized in the coming weeks, after two separate motions have been filed to bring down the government - one from left-wing parties Labor and Meretz, and another from the hareidi parties.