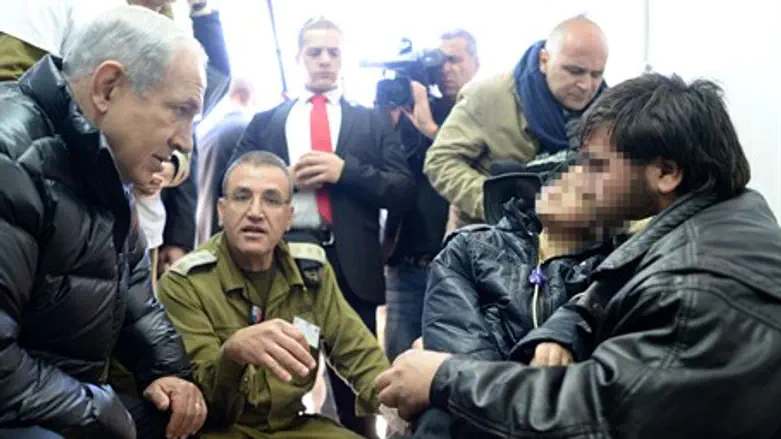 Prime Minister Netanyahu meets Syrian being treated in Israel
Flash 90
Israel's work to help Syrian refugees has gained national and international acclaim, with Syrian citizens themselves noting that their treatment at the hands of Israeli care providers and government officials has changed their views of the Jewish state. 
But at least one group has urged Jerusalem to stop providing aid, claiming that the praise is not worth the cost of the aid at the expense of the Israeli taxpayer.
Students for Israel penned a letter to Health Minister Yael German on Sunday demanding that aid to Syrian refugees be curtailed, claiming that the money spent on the project is funneling funds away from crucial domestic concerns.
"According to information released by the Ministry of Health on September 29, 2014, the cost of treating wounded Syrians, and their transfer to Israeli government hospitals, has reached huge proportions," the letter, penned by Students for Israel chair Eliyahu Nissim, states. "It amounts to more than 32 million shekel [$8.2 million - ed.] over 18 months."
"Please note that according to your own information, the IDF treats Syrian citizens as well, before they are transferred to government hospitals," Nissim adds."We demand an immediate halt to this behavior in which Syrian citizens receive medical care at the expense of the taxpayer in Israel."
Nissim emphasizes that "in an ideal world we too were willing to provide medical care to everyone, even non-citizens of Israel, but under the current state of the economy, in which large groups of the population are weighed down under the burden and many government agencies are forced to cut their budget due to the deficit, it is inconceivable that Israel takes tens of millions of shekels for medical care of people who are not citizens of Israel at the public's expense."
"As you know," he adds, "Israel's health system also does not suffer from excess resources, to say the least. There is an urgent need to upgrade infrastructure in hospitals, add buildings, train more doctors, add beds, add emergency rooms, and add medicines and other treatments to the health basket."
"It is illogical in this situation for us to continue tending to the injured, who are not citizens of Israel, using tens of millions of shekel from public money," he maintains. 
Nissim also attempted to qualify this point.
"Israel's values certainly require the provision of medical assistance to any human being, when its dimensions of expenses are reasonable and when it does not come at the expense of safety and health of its own citizens," he states. "We value human judgment and think that definitely has a place in exceptional cases, but in case you have not noticed - the citizens of Israel are also human."
"Israeli citizens also carry the obligations imposed on them but unfortunately many families are forced to ask for donations and use charities to fund medical treatments for life-saving treatments for their families," he concludes. "This is an absurd situation."
Throughout the civil war in Syria, Israel has treated hundreds of wounded Syrians who have been brought to its borders.