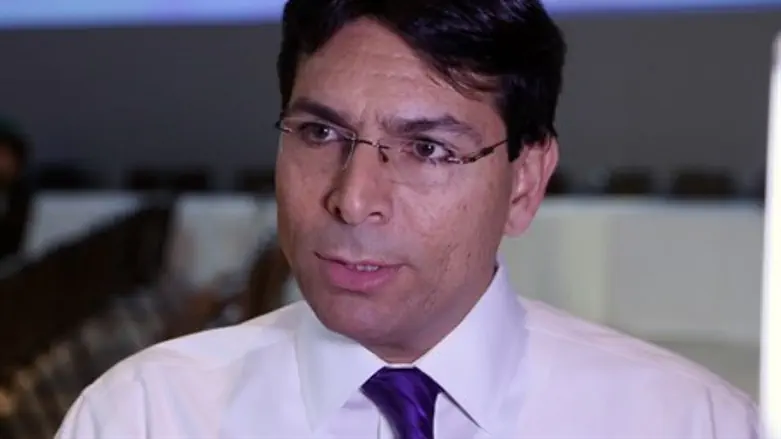 Danny Danon
Flash 90
Likud Central Committee head MK Danny Danon, currently challenging Prime Minister Binyamin Netanyahu in primaries for leadership of the party, criticized Netanyahu on Friday morning in a meeting with Likud's "Nationalist Camp" faction leaders in Psagot, to the north of Jerusalem.
"I present an ideological and moral alternative to the path of Likud chairman and prime minister, Binyamin Netanyahu," Danon said in the  meeting with Shevah Stern and Natan Engelsman, heads of the Nationalist Camp faction.
"The path of the prime minister is problematic," stressed Danon. "While he speaks 'right-wing' recently, in every process of his tenure he acts 'leftist.'"
Danon elaborated "during the five years of Netanyahu's tenure in power he managed to freeze construction in Judea and Samaria, now too he isn't advancing building and infrastructure. Additionally, Netanyahu released terrorists for irrelevant peace talks and didn't show sufficient firmness against Hamas in Gaza."
Concluding his barrage on Netanyahu, Danon noted "in practice, Bibi is realizing the policies of (Hatnua chairperson) Tzipi Livni, and not those of the Likud."
Tensions between Danon and Netanyahu reached a head during Operation Protective Edge during the summer, with Netanyahu firing Danon from his position as Deputy Defense Minister over the MK's criticism of the prime minister's numerous ceasefires.
As Danon argued, in one of the early ceasefires Netanyahu agreed to stop the operation before Hamas's terror tunnels were lethally unveiled, showing the prime minister was either willing to leave the tunnels in place to threaten citizens or - perhaps more troubling - was unaware of the danger of their existence.
Danon has been critical of Netanyahu recently as well, particularly after Netanyahu called for all the opposition parties to join his coalition, a call that was promptly refused.
The most recent criticism comes as various parties are jockeying for position ahead of expected early elections, as Netanyahu reportedly is seeking to disband the government and form an alternative coalition with the hareidi parties.
Danny Danon in Psagot
Office of Danny Danon