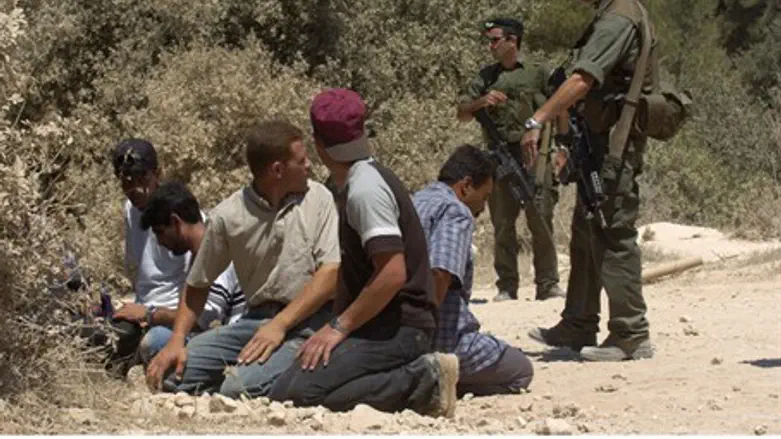 File
Flash 90
A recent large-scale operation to locate illegal aliens in all areas of northern Israel resulted in the arrest of 72 individuals. 
The operation, carried out in large part by detectives and investigators from Border Patrol units of the Northern District, put an emphasis on crime and locating suspects with security and/or criminal backgrounds. 
A total of 72 illegal aliens were arrested by northern police and Border Patrol forces. Some of suspects required further investigation and were taken for interrogation by the Israeli Security Agency (ISA or Shabak). 
Intelligence and investigative efforts produced 40 indictments in the last few days. A significant portion of the illegal immigrants were found by the ISA to have criminal backgrounds. 
A number of the suspects have been arrested several times before for an illegal presence in Israel; several of them are even on probation for that crime. All the suspects are in police custody, which has been extended through the end of proceedings against them. 
"Israeli police and Border Patrol forces see the utmost importance in the fight against the presence of illegal aliens, as these individuals pose grave dangers both criminally and in terms of national security," Eli Gozlan, the Border Patrol Unit Commander for the Northern District, said. 
"We will continue our determined and persistent activity against violators of crime, including those found illegally in Israel." 
Operations such as these, take place not only in the Northern District, but throughout the country. Every year Israeli police and Border Patrol forces perform a variety of activities intended to detect and reduce the crimes of illegal aliens. 
Earlier in November, Nur al-Din Abu Hashiya, an 18-year-old Palestinian from Shechem (Nablus) in Samaria, illegally entered into sovereign Israeli territory - the day before he stabbed and murdered 20-year-old First Sergeant Almog Shiloni.