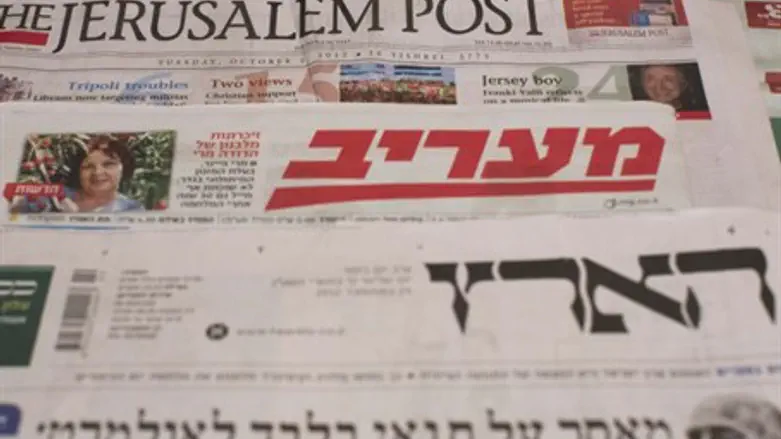 Israeli newspapers: Jerusalem post, Maariv, Haaretz
Yonatan Sindel/Flash90
The left-wing Israeli newspaperHaaretz is preparing for another round of layoffs before the end of 2014. Publisher Amos Schoken sent a letter Monday to all employees offering voluntary retirement before the layoffs begin. 
Schoken wrote, "This is a step that we are taking out of significant economic necessity. Our aim is to ensure that the newspaper can support itself from its income. All of us know that the distant future in our sector is shrouded in mist but our aim is to ensure the short term and immediate future."
As to reasons for this round of layoffs, Schoken cited "the challenging economic environment, the economic slowdown hitting advertising, the erosion of the newspaper's part of the advertising pie, the hit taken by income due to the measures for which the newspaper petition the Supreme Court, and the complete halting of printing Israel Hayom at our print house."
Schoken was referring to the Interior Ministry's decision to remove Haaretz from its list of the three most distributed daily newspapers in Israel in favor of the free Israel Hayom. This move cost Haaretz tens of millions of shekels in advertising.  
Haaretz previously laid off 5% of its workforce at the end of 2013, as well as the end of 2012, spurring strikes and protests by its writers.  
At the time, Schoken, said the redundancies would go ahead despite the protests.
"It is regrettable that the union doesn't understand that something has happened in the newspaper industry that requires adapting expenditures to the reality of the business," Schoken added.
In addition to the layoffs, Haaretz plans to move into new offices in 2015, selling its current office building in south Tel Aviv.