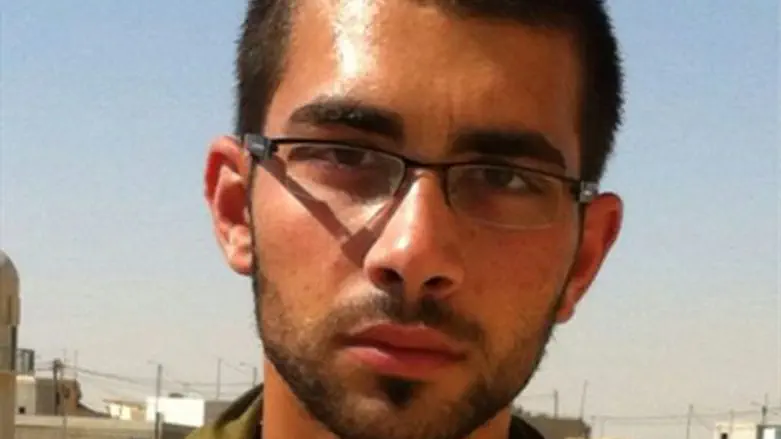 Almog Shiloni hy''d
Flash 90
An indictment was submitted on Monday to the Tel Aviv District Court against Nur al-Din Abu Hashiya, an Arab terrorist who two weeks ago stabbed 20-year-old First Sergeant Almog Shiloni hy"d to death outside Tel Aviv's Hahagana Train Station.
According to the indictment Hashiya, an 18-year-old from Shechem (Nablus) in Samaria, illegally entered into sovereign Israeli territory on November 9, a day before he murdered Shiloni.
The indictment detailed that Hashiya committed the horrific murder hoping "that as a result of the act he would be killed and merit to the status of a martyr" - a status reward by generous stipends to the terrorist's family from the Palestinian Authority (PA).
Instead of dying in the attack Hashiya fled the scene, only to be captured by security forces after holing up on the fourth floor of a nearby building.
In planning the attack, Hashiya acquired a knife and went to Hahagana station, where at 12:10 p.m. he spotted Shiloni in uniform carrying an M-16 semi-automatic rifle.
Hashiya caught Shiloni off-guard and stabbed him in the stomach, at which the soldier fell to the ground and tried to defend himself with his legs, but the terrorist succeeded in stabbing him several more times while trying to grab the M-16 and attack other bystanders.
His attempt was foiled by passersby who got involved and hit Hashiya, causing the terrorist to flee and throw away the knife as he did so.
Shiloni was brought to the Sheba Medical Center at Tel Hashomer in critical condition, where he died from his wounds at 9:30 p.m.
The indictment comes a day after an indictment was submitted in Jerusalem against a Border Patrol officer who allegedly shot an Arab rioter in the Nakba Day riots against Ofer Prison in May. Many question marks have been raised in the case, given the fact it apparently relies on a PA autopsy, and CCTV video evidence showing the supposed victim did not leave blood stains on the ground.
Former MK Dr. Michael Ben-Ari, who is aiding the officer's family in his defense, said "if Almog Shiloni hy''d had preempted the murderer who stabbed him to death he too would be sitting in jail now and be investigated...for killing a terrorist!"