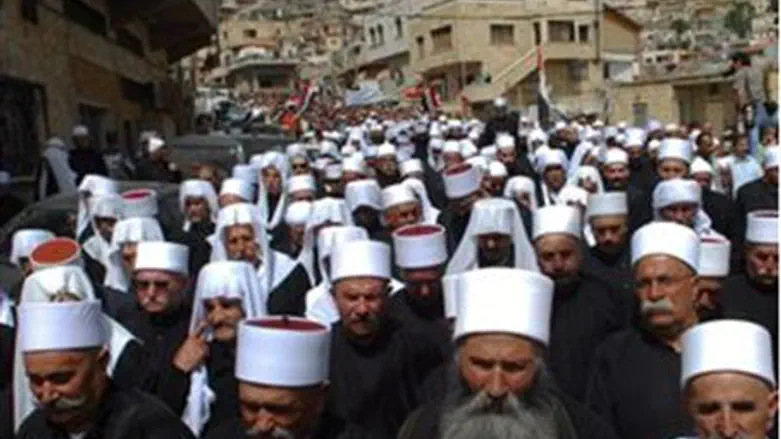 Druze leaders in Israel
Flash 90
Graffiti in Arabic supporting the Islamic State terrorist group was found Saturday on a memorial monument dedicated to Druze IDF soldiers killed in Israeli wars. 
The monument is located along the Carmel Scenic Route, to the east of the entrance to Druze town Daliyat al-Karmel, near Haifa. Pro-Islamist graffiti was also found on a walking path near an eastern neighborhood of the town. 
This weekend's incidents mark the third time Daliyat al-Karmel has suffered from vandals spray painting Islamic State slogans in the area. 
Last month, residents of Daliyat al-Karmel discovered four spray paints of the Hebrew term for ISIS near a soccer field in the city. 
In a separate incident, the slogan "ISIS is on the way" was found graffitied onto an Israeli flag in the village of Bana'a, in the Galilee.
Similar graffiti was discovered in another Druze village, Isfiya, located on Mount Carmel also in the Haifa district. Three youths were identified as suspects in that incident and released under restrictions.
Rafik Halabi, head of the Daliyat al-Karmel local council, urged police last month to act quickly to apprehend those responsible for the graffiti, saying that "even if children did this as a prank, we are taking this incident very seriously."
"The Druze community condemns this Islamic terrorist organization," he added.
Haifa Police are investigating the incident, and believe the vandalism of the monument was undertaken in recent days. After the graffiti was discovered, local inspectors hurried to the scene to erase the unwelcome graffiti. 
The police following several leads, including the possibility of youths spray-painting the monument after drinking heavily at the site. They are also exploring the possibility that the graffiti was intended as protest against the authorities.
Tensions between Muslim Arabs and Druze have been high in recent weeks following the police shooting of Hir Alhamdan in Kafr Kana and the murder of two Druze Border Patrol forces in terror attacks in Jerusalem. 
Those tensions hit a peak two weeks ago when a massive violent brawl broke out in the mixed Muslim-Druze town of Abu Snan in the Galilee. Over 40 people were injured in the clashes. 
In an unrelated event in the North over the weekend, masked suspects attempted to set a lifeguard's cabin on fire in the Kiryat Haim beach near Haifa. Inflammatory graffiti against Jews was scrawled nearby. Local police are also investigating that incident.