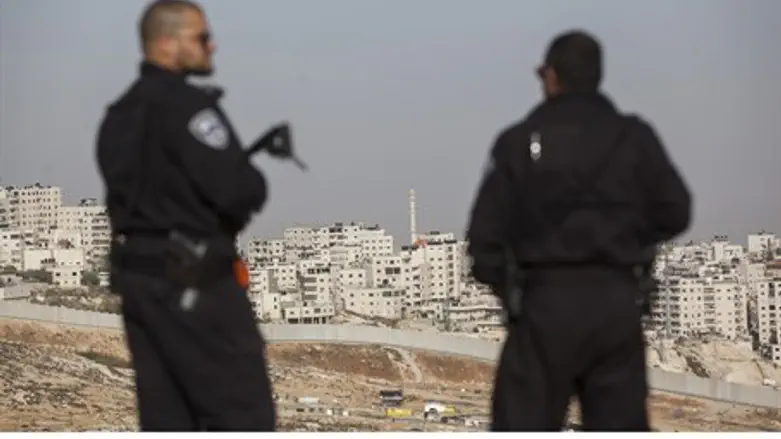 Police stand guard in eastern Jerusalem (file)
Yonatan Sindel/Flash 90
Jewish yeshiva students are fuming after police defined a pre-planned Arab attack on them at Jerusalem's Mount of Olives Friday night as an "altercation" or "mutual provocation" in an announcement to the media.
One of the Jewish youths who was attacked is hospitalized at Shaare Tzedek Hospital in the capital with light to moderate wounds, while another was released after receiving medical treatment. The two are aged 21 and 24.
The students who came under attack told Arutz Sheva at the sense of injustice and anger they felt after police ascribed culpability and responsibility to the victims with their unusual definition of the incident.
Eli Baratz, who was among the students who were attacked on their way to Beit Orot Yeshiva, said the Arab assailants apparently planned the ambush in advanced, describing it as a near-lynching that only ended with two wounded students by a miracle.
The Arab attackers fell upon the students with rocks, molotov cocktails and crow-bars after waiting patiently for them to approach the yeshiva building, Baratz said.
According to the student, police have lost control of eastern Jerusalem and therefore falsely reported the attack as a "clash" so as to avoid coming to terms with the breakdown of law and order.
Magen David Adom (MDA) paramedic Kobi Tamam was at the scene of the attack and treated the wounded.
"In the yeshiva two youths were sitting in shock and anger, they told us that they were adjacent to the Mount of Olives when they were attacked with boards studded with nails and had rocks thrown at them," said Tamam, noting he and other medics supplied medical treatment.
The attacks on Friday night weren't limited to the Mount of Olives.
In the southeastern Nof Tzion neighborhood, adjacent to Jabel Mukabar where the two terrorists who committed last week's horrific attack on a synagogue came from, Arab rioters threw several molotov cocktails at building 7 in the neighborhood.
At the same time, several fireworks were shot at homes in the neighborhood in an apparent attempt to burn them down. Security teams from the Ministry of Construction and Housing responded within minutes and began searching for the assailants.